VietNamNet Bridge – Tran Thieu Quang points at his ears and say "ears", and his students repeat the word. It seems to be part of an English class as usual. But in reality, Quang is a 14-year-old teacher. His students are aged 10-20 and have mental disabilities.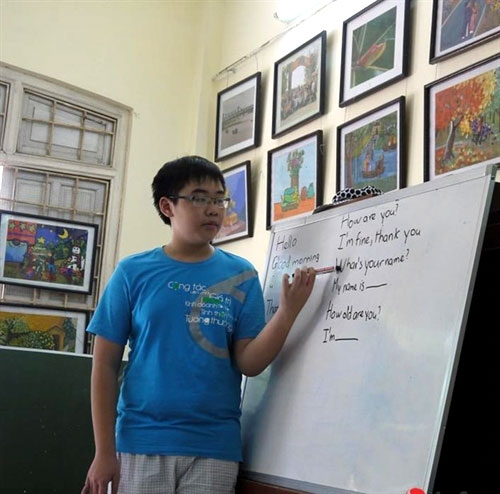 Devoted teacher: Tran Thieu Quang consulted many online resources and books about intellectual disabilities to find a suitable method for teaching the students.
"Teaching students who have limited awareness is not easy, especially teaching them a foreign language," said Quang.
"Despite many difficulties, I still try to equip the students with knowledge and help them feel more confident in life."
Quang is the oldest son in a family of two. His father is a businessman and his mother works at the Ministry of Defence. Quang studied hard at a very young age. He's best at English and maths, and he won a bronze medal at the Asia Pacific Mathematical Olympiad for Primary Schools (APMOPS).
When Quang studied at Ha Noi Amsterdam Secondary School in 2013, his class visited the Ha Noi Art and Literature Club for Disabled Children to present gifts on the occasion of the Mid-Autumn Festival. It's a regular activity organised by the school management board to get students involved in social work and educate them on issues affecting people with disabilities.
This was the first time Quang met disadvantaged children. He immediately wanted to do something to help them.
The club was founded in 1995 at Trung Tu Primary School in Dong Da District. Since its establishment, the club has built a bridge between children with intellectual disabilities and the community through various cultural activities, exchanges and vocational training.
When Phan Thi Phuc, chairwoman of the club, asked students from Ha Noi Amsterdam Secondary School to teach English at the club, Quang did not hesitate to volunteer for the special needs class.
"I was inspired by Phuc," Quang said. "She is a mother of all the club members; despite different ages, they all call her mother. The way she takes care of the children moved me, and I decided to join hands with her."
At the beginning, Quang worked as an assistant for an older student, but when he graduated, Quang became the teacher on Sunday mornings.
A normal class often lasts two hours, but for this one, Quang teaches 30-45 minutes only because the students lack concentration.
"I had to think of ways to attract students to the lessons and find a suitable method to help them acquire knowledge," Quang said.
"I can't use the teaching method from my school or any language centre. So, I prepared the lesson plan on my own."
Quang consulted many online resources and books about mental disabilities to understand more about the students.
Teaching them requires much patience and empathy, Quang said.
Quang often combines a lesson with a game to create an opportunity for the students to practise.
"It's hard for them to acquire the knowledge. I have to repeat many times to make them remember a single sentence," Quang said.
At times, Quang has felt low-spirited and wanted to give up. He reached a stalemate because he couldn't find a way to make the students understand. The work seemed to be at a standstill and he felt helpless.
But Quang kept trying, thanks to the encouragement of his parents and the club's management board. Above all, he can't quit because he knows the students still await.
His mother, Thieu Lam Quynh, is the one who supports Quang most to pursue the class.
"I always encourage him to continue this work, though it's very difficult, I know," said Quynh.
"Quang is just a student. He also has to learn at school and do homework," she said. "He has no experience in teaching. He has spent much effort on this class.
"I told Quang that he should help people who are less fortunate than him. It's not only volunteer work, but Quang also receives love and gratitude from others. It's a chance for him to understand that he's luckier than many people.
"As a mother, I want him to respect what he owns. In the future, he could face many obstacles, and I believe that he would have the motivation to overcome them. The disadvantaged children in the class are a prime example for him to follow."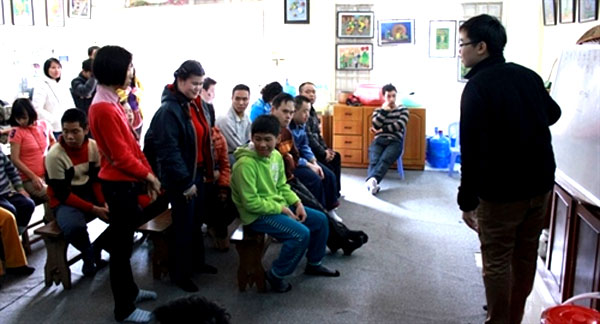 Motivated class: Quang's students are aged 10-20 and have intellectual disabilities. Photo tienphong.vn
After much effort from both the teacher and students, the children can now count from one to 20 and have basic conversations with foreigners. After four years, the fruit of labour is so sweet.
Tran Thi Hai Ninh, vice director of the club, highly appreciated Quang's efforts.
"Everyone loves Quang and waits for his class," said Ninh.
"We admire him because he successfully finds a good method for the children. The class runs effectively. Together with other subjects, English really helps the students become confident in communicating with other people."
Quang has been busy studying for the final secondary school exam and the entrance exam to high school. However, he still shows up at the front of class each week.
"At the age of 75, Phuc tirelessly works to help the students, so I think what I have done can't be compared with her," said Quang.
VNS
Linh Thu