VietNamNet Bridge – More than 70,000 teachers are likely to be out of jobs by 2020 since the demand is far short of supply, according to educational experts.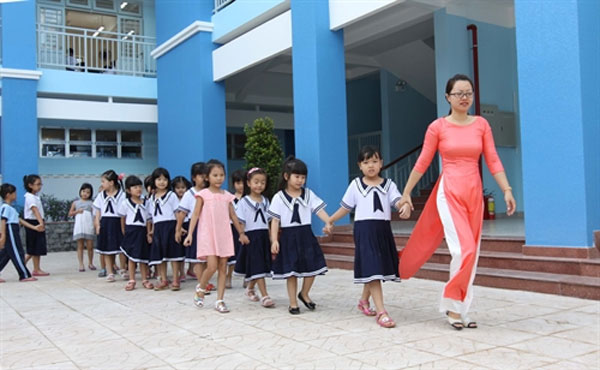 A teacher leading pupils at the Nguyen Van Troi Primary School in Tan Binh District, HCM City. More than 70,000 teachers are likely to be out of a job by 2020 since demand will fall far short of supply, according to educational experts. – Photo: VNA/VNS 
Even if Viet Nam's student-teacher ratio reaches that of developed countries, its education system will not be able to absorb all newly graduated teachers, Bui Van Quan, the rector of the Ha Noi Metropolitan University, said at a meeting held on Wednesday to discuss teacher training and education reform.
Around 41,000 primary teachers, 12,200 secondary teachers and 16,900 high school teachers would be unemployed by 2020, he said.
Quan blamed the redundancies on the country's massive number of teacher training institutions.
Sixty three out of 64 cities and provinces in the country have at least one university that provides teacher training courses, he said.
Dak Nong is the odd one out.
Teacher training institutions mushroomed without taking market demand into account, Quan said.
Many have poor infrastructure and lack qualified lecturers, he added.
Assoc Prof Nguyen Manh An, rector of Hong Duc University in Thanh Hoa Province, called for adopting policies to attract excellent students to sustain the quality of future teachers.
Ariel Cegla, co-ordinator of Israel's A. Ofri International Training Centre, said lecturers at teachers training universities should have exchanges with high-school teachers to improve their practical knowledge and learn about the latest teaching methods.
Pedagogy students should spend more time interning at schools while at university, he said.
Quan said curriculums should be changed in line with the requirements of education reforms.
Teachers training institutions should assess future needs to avoid redundancy of teachers, he said.
The country has 13 pedagogy colleges and universities and 144 institutions offering teachers training courses, according to statistics from the Ministry of Education and Training.
VNS