VietNamNet Bridge - From the beginning of the year to mid-April, the Institute of Social Sciences of the Vietnam Academy of Social Sciences produced one PhD every 1.5 days.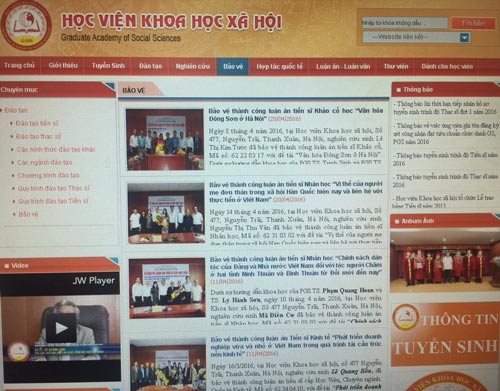 The website of the Institute of Social Sciences
In the first half of April alone, 60 postgraduates defended their theses to receive a doctorate. The information was published on the institute's website.
With such impressive figures, the institute now holds a record as the 'Phd production workshop'. Every 1.76 days, it produces one Phd in many different fields, from psychology, linguistics, anthropology, archeology, economics, cultural studies, jurisprudence and history.
According to Nguyen Xuan Thang, president of the Vietnam Academy of Social Sciences, the institute has been assigned to train 1,600 holders of master's degrees and 250 master's for the first campaign of 2016. If the plan is fulfilled, one doctorate will be granted every 1.5 days.
When asked about the high number of postgraduates to defend theses within a short time, Thang said that this was a regular thesis defending campaign. The topics of the theses were in 44 different fields, which means that only 1-2 theses were defended in every field.
In general, it takes three years to train a PhD.
However, Thang's explanation cannot reassure the public, because many theses have been found dealing with inconsiderable topics which cannot convince people that these are a PhD dissertation.
In the dissertation titled 'The characteristics of communications with citizens by chairs of commune's people's committee', for example, people cannot find the 'new points' which could be the academic discoveries. An analyst commented that its value is just 'a little above' a bachelor's thesis.
In reply to the criticisms that many dissertations deal with inconsiderable matters, Thang said that people wrongly think that PhD dissertations must deal with special theoretical topics. Many theses nowadays mention issues in practical life. 
From the beginning of the year to mid-April, the Institute of Social Sciences of the Vietnam Academy of Social Sciences produced one PhD every 1.5 days.
In an effort to improve PhD quality, in 2011, the Ministry of Education and Training (MOET) decided to stop the enrollment and training of 101 training majors belonging to 35 training establishments, while giving warnings to 38 training majors at 18 training establishments which were found as lacking permanent lecturers.
One year later, 57 training majors belonging to 27 training establishments had licenses revoked by the ministry because they could not find enough lecturers.
However, when asked about the quality of PhD dissertations, Nguyen Thi Kim Phung, from MOET said the quality assessment depends on instructors, board of examiners and independent critics, while the watchdog agency's job is to set up conditions and requirements on theses and the process of implementation.
Phung also affirmed that the institute does not enroll more postgraduates than allowed. The institute every year is allowed to enroll 350 postgraduates, while it has 380 PhDs, including 175 with associate professor and professor titles.
Tien Phong