VietNamNet Bridge - Both State-owned and private schools are trying to attract students with scholarships.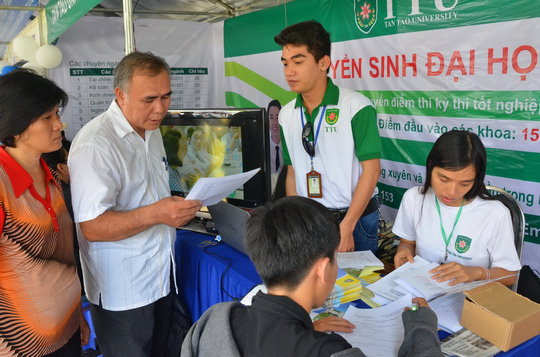 The students, who pass the exam to the International School of the HCM City National University, will have opportunities to win full 4-year or 1-2 year and partial scholarships. 
To obtain full scholarships in business administration and finance & banking majors, students have to have 25.5 scores for 3 exam subjects. They need to get 24.5 scores for partial scholarship. 
The tuitions set by the school are sky high for the majority of students. They have to pay VND42 million a year to follow the training program and get degree from the International School. 
As for joint training programs, the tuition for the first phase of training is VND56 million a year. 
Meanwhile, the tuition for the second and subsequent years will depend on the policies of the partner schools.
Therefore, the students with scanty budgets who still want to study at the school only have one choice – obtaining the school's scholarship. Even if they can get partial scholarship, they will still have to pay high for tuitions.
Both State-owned and private schools are trying to attract students with scholarships. 
In general, the tuition set by international schools, joint training programs and people-founded schools are much higher than that of state-owned schools. It is estimated that state-owned schools' students have to pay VND16-18 million a year only.
The privately run Hoa Sen University has announced the scholarship program worth VND8 billion for the new academic year. 
According to Hoang Duc Binh from the school's enrollment division, the scholarship could be up to VND200 million. 
The tuition set by the school is also high. The students following training programs have to pay VND43-46 million a year if they study in Vietnamese language, and VND48-51 million if they study in English. 
The FPT University has launched 200 scholarships for excellent students who have won medals at international and national competitions and high scores from the national high school finals.
However, an analyst commented that except for scholarships equal to 140 percent and 100 percent of tuition, the other scholarship packages are small compared with the high tuition.
Linguistics students, for example, have to pay VND18.9 million for every semester. At FPT University, every semester lasts four months, while a training course comprises nine semesters. 
Meanwhile, students following other training majors have to pay VND25.3 million on average.
While the tuition offered by schools prove to be very attractive, educators have warned that students may fall into 'traps'.
"Some schools promise full scholarships. However, students are required to pay many other items which are very costly," said Nguyen Duc Nghia, deputy director of the HCM City National University.
Tien Phong