VietNamNet Bridge - Teachers as well as the entire society should take responsibility to stop school violence, educators say.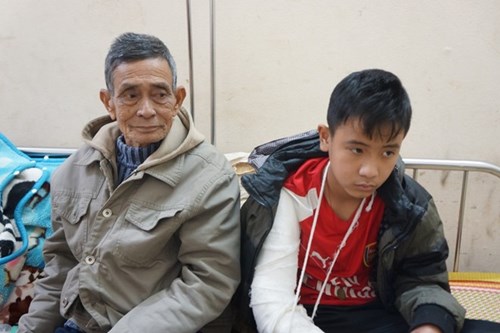 Do Lan Anh (right)
Do Lan Anh, an eighth grader in Dinh Hoa commune of Yen Dinh district in Thanh Hoa province, was hit with a stick by his teacher some days ago.
According to Doan Van Hoc, the teacher, Lan Anh did not concentrate during the lesson, but gossiped with friends. Hoc asked Anh to stop gossiping and laughing, but Anh did not obey the teacher's request. 
Hoc decided to ask Anh to stand at a corner. However, Anh once again tried to talk with friends by play acting, interfering with the lesson. Hoc then tried to hit Anh slightly on the bum with a ruler. As Anh parried the hit with his arm, he felt a pain and went to the Yen Dinh district hospital for examination. 
Teachers as well as the entire society should take responsibility to stop school violence, educators say
Physicians came to a conclusion that the student had a fracture and he had to have his arm cast in plaster.
The news immediately raised anger among the public, while Hoc has been criticized harshly because of the unreasonable behavior towards students. 
On education forums, people called for the dismissal of teachers who 'teach students with anti-professional or anti-rational measures' and 'can't behave correctly towards students'.
The teacher was reprimanded and suspended.
However, just some days later, the Thanh Hoa General Hospital, after re-examining Anh's arm, affirmed that Anh was not injured, and discharged Anh from hospital and allowed him to go back to school.
As such, the hospital's conclusion confirmed the teacher's statement that he just tried to hit Anh slightly. This shows that the report by some local newspapers that 'a student was brutally beaten' was wrong.
Phan Tuyet, a teacher, in an article published on Giao Duc Viet Nam, commented that the local mass media accidentally 'lent a hand' to Anh's family to cover up Anh's misconduct at school.
Tuyet agreed that Hoc, the teacher, behaved inappropriately when trying to hit the student. However, she called on people to put themselves in the teacher's position before 'judging' the teacher.
If the teacher had ignored Anh's misconduct and continued his lesson until the last minute as usual, he could have been 'safe'. 
However, as he did his job conscientiously, he tried to stop Anh, so that Anh's misconduct could not interfere other students. And the teacher was criticized for this.
A primary school teacher in Hanoi commented that teachers tend to be afraid of students. 
"If you lose your temper and hit a student, you will be sacked. What you should do is give lessons and leave class safely; there is no need to take care if students listen to your words," she said.
GDVN