VietNamNet Bridge – Tourism in Ben Tre Province is growing, but many locals do not have the language skills needed to take advantage of this opportunity. That's why a 79-year-old has opened a free English centre in her home. Thanh Huyen & Thu Huong report.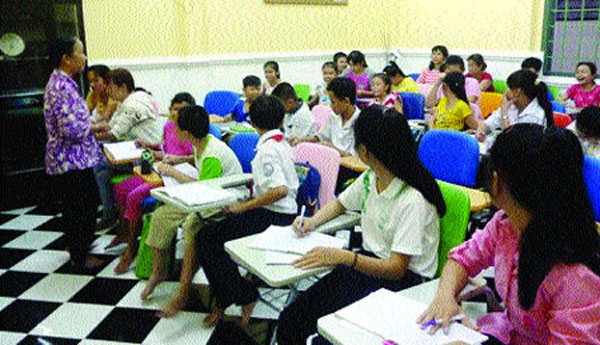 Registration: Huong (standing) checks the number of the students present in class before every lesson. — Photo zdn.vn
Boatwoman Vo Thi Gai in the southern province of Ben Tre used to find it difficult answering basic questions in English of tourists such as "what is your name?" or "how old are you?".
However, she has overcome this problem after attending free English classes held by Dang Thanh Huong in Tan Thach Commune in the province for a short period.
"Now I am able to communicate with foreign tourists in basic-level English, such as asking them what they like about my hometown, or answering their simple questions," Gai says.
Huong's two classes, launched last August, offer English lessons to about 60 people from all walks of life in the region, such as small children, students from local high schools, boatwomen and staff of tourism companies, besides workers and even farmers.
Huong used to be a teacher of Kien Hoa and Le Ngoc Han High schools. She had to leave teaching after working for more than 10 years to take care of her sick mother in her hometown.
"I regretted that I had to stop teaching at that time, but I had no choice," she says.
Seeing poor learners unable to attend English centres, while the tourism in Ben Tre Province is growing and attracting more and more foreign visitors, the 79-year-old former teacher wished to hold free English classes for the local people.
Receiving a lot of support from the relatives who live abroad and want to contribute to their hometown, Huong decided to hold classes right in her house. All the expenses needed to run the classes such as furniture and salary for teachers are sponsored by her relatives.
Equipped with modern devices for English learning such as DVD players and TV, and managed by two skilled teachers, Huong's classes are divided into two levels of basic and communicative with about 30 to 34 learners in each. The classes start at 5pm on every alternate weekday.
Though she does not teach herself, Huong works as supervisor. Before any English lesson, she goes to class for the roll-call and carefully takes notes in the register.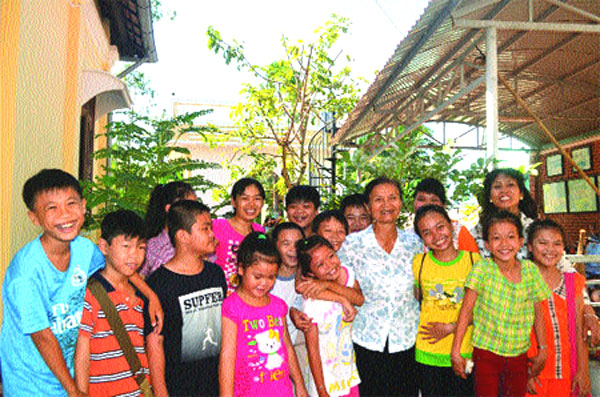 Sharing is caring: Seeing poor local children enthusiastic about learning English makes Huong (sixth from right) happy. — Photo tuoitre.vn
She also keeps track of the classes, such as the number of absentees, those who are sick or whose families have difficulties.
Huong's house comes alive with laughter and talk in English by the local children every afternoon, whether it be a rainy or a sunny day.
She cannot hide her happiness on seeing the children's interest in every lesson. "They do not miss a single lesson, including the children who live far away," she says.
Most of the students are poor children who cannot attend English language centres.
"Learning English at Huong's house is great fun. I go to my English class every day. I have learned a lot and been able to say simple sentences for daily use. I will try to learn English till I can speak it fluently," Dang Thien Phuc, a student of the basic-level English class, says.
"The classes were initially aimed at poor children from my village," Huong says. "But then, unexpectedly, even the parents, boatwomen and farmers wished to join.."
Each person comes to Huong's classes with a different purpose and ambition.
For example, high school students want to improve their fundamental English or practise their communicative skills, while teachers want to gain more knowledge to teach their students and workers hope to communicate with their foreign bosses.
Working as a waiter in a renowned restaurant in the province, 32-year-old Nguyen Thi Ngoc Thu used to face many difficulties in understanding the orders of her foreign customers. Most of the time, she used body language to communicate with them.
"I intended to learn the language long ago, but all English centres were located far away and charged high tuition fees," she says.
As soon as she learned about Huong's class near her house, Thu registered for a communicative course immediately.
"I have the opportunity to both improve my English and do my work well," Thu says, adding that she would attend the next course after finishing the present one.
If anyone is not able to catch up with the lessons, Huong is always willing to spend time explaining to him what he has not understood.
Her enthusiasm has even inspired many local teachers, who also wish to open English classes for poor children.
The classes have been appreciated by the parents in the village too.
"My son likes learning English a lot, but my family could not afford to send him to a regular English class. Huong and her teachers are very enthusiastic and are very good at teaching. My son has begun to speak English pretty fluently in just two months," villager Tran Mai Phuong says.
"He even speaks English to me at home. Of course, I do not understand, but keep smiling to encourage him to study harder."
According to Dang Thi Thanh Huong, a teacher of the communicative class, all students attend the class attentively and seriously, which explains their great improvement.
Each course is expected to last three months. However, Huong says the course will be extended till the students are able to communicate in basic-level English confidently.
"I'm getting old and want to contribute something to society and the next generation. I hope to extend my classes so that all the children from not only my village but also nearby areas can learn English for free," she says.
VNS