VietNamNet Bridge - VNEN, considered 'the new school model for Vietnam', has proven to be too costly for many schools in Vietnam, especially those in rural areas.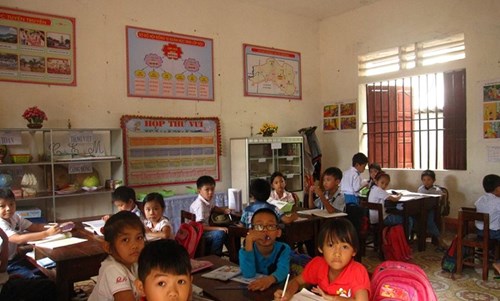 One month after the new academic year, the Ho Tung Mau Secondary School in Huong Son district of Ha Tinh province was told to begin applying VNEN.
The VNEN application upset teachers' and students' plans. More than 100 students were told to throw away hundreds of textbooks they prepared before the new academic year. 
And they were asked to hurry to prepare for the modern learning model – upgrade classrooms, redecorate classrooms to make them fit the VNEN model, reorganize the classes, prepare teaching aids and re-allocate teachers' works. 
"There are too many things that need to be done, while we don't have money," a school's teacher complained. 
"And we have to borrow money to apply VNEN," he said.
According to Nguyen Trong Ky, the headmaster of Ho Tung Mau School, 115 students in five classes will study in accordance with VNEN this academic year, which means that the school will have to repair five classrooms to make them suitable to the new teaching method.  The repair is being done, but the repair fee will be paid later.
As students cannot pay money for too many textbooks, the school decided to purchase 130 sets of textbooks on credit, worth VND37 million, to give to students and teachers.
Ho Tung Mau is not alone. Many other schools in Ha Tinh province also complained they have been in a dilemma. A teacher commented that 'VN' in 'VNEN' means 'Vay No' ('vay no' in Vietnamese means 'borrowing on interest').
The Duc Tho district's education sub-department warned that the Yen Tran Secondary School in the locality will apply VNEN this year. However, the school's teachers still are confused because they cannot arrange money to implement the plan.
Yen Tran's headmaster Bui Trung Kien complained that lack of money is the biggest headache for the school when applying VNEN.
"We don't receive money from the state and local budgets. Meanwhile, it is very difficult to call on parents to pay money for VNEN, because the majority of students are from poor families," he said.
"The training for teachers alone will cost tens of millions of dong," he said, explaining that four teachers need to be sent to the training courses organized by the Ministry of Education and Training, and the other 37 teachers will have to attend refresher courses held by the provincial education department.
"Besides, we will also have to repair five classrooms, buy 75 sets of tables and chairs, textbooks, documents and teaching aids. It will cost at least VND190 million," he said.
GDVN