VietNamNet Bridge - The Q2 labor market bulletin showed that while the unemployment rate has decreased, the number of workers with bachelor's and master's degrees has increased to approximately 200,000, which accounts for 17.4 percent of unemployed workers.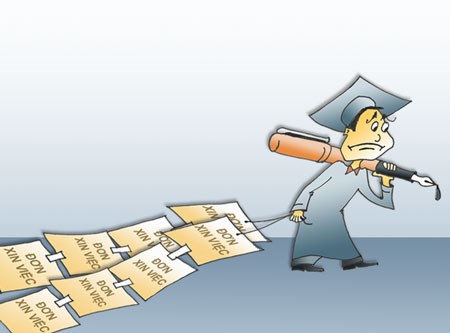 The Vietnam Labor & Social Studies Institute showed that only the group of workers finishing junior colleges (3-year training) saw unemployment rate decreasing from 7.13 percent to 6.56 percent, while other groups of trained workers all had higher unemployment rates compared with the first quarter.
The unemployed workers with bachelor's degrees rose from 3.92 percent to 4.6 percent, while those finishing intermediate school (2-year training) accounted for 4.49 percent instead of 3.66 percent, and those experiencing shorter-term training rose from 2.05 percent to 2.71 percent.
Head of the Vietnam Labor & Social Studies Institute Nguyen Thi Lan Huong, while noting that the unemployment rate of the group of workers with higher education is on the rise, attributed this to oversupply, i.e., universities produce more workers with bachelor's degrees than the society needs.
Vietnam had 10.7 million trained workers (who have short-term training certificates, finish intermediate school, junior college and have bachelor's and master's degrees) which accounted for 20 percent of the labor force. Of these, 4.47 million have a higher education level.
According to Nguyen Tung Lam, a renowned educator, chair of the Hanoi Education Psychology Association, there are four reasons behind the high rate of unemployed workers with higher education.
First, university graduates did not choose the training majors which fit their capability and hobbies. As a result, they did not pay appropriate attention and could not obtain necessary working skills when finishing school.
Le Tham Duong from the HCM City Banking University also noted that the biggest reason behind unemployment is the limited capability of university graduates.
"University graduates and master's graduates do not try to improve their knowledge and skills to satisfy the requirements set by employers," he noted.
Second, schools, with low training capability, cannot produce qualified workers.
The third problem lies in the unreasonable educational system which is 'contrary to the trend'.
Lam noted that MOET sets tight control over input students by forcing them to attend university entrance exams, but loosens control over the quality of graduates. Nearly 100 percent of university students can graduate schools after 4-5 years of training.
Van Nhu Cuong, president of Luong The Vinh High School, while agreeing that problems exist in the educational system, warned that if the situation cannot be improved, Vietnam, in the future, will have to import skilled workers.
Fourth, MOET only controls schools' operation and training quality on paper, while it does not know what happens in reality.
GDVN