VietNamNet Bridge - Vietnam has risen in the world's ranking of English skills from 'low proficiency' to 'moderate proficiency'. However, educators say the ranking does not reflect the real situation.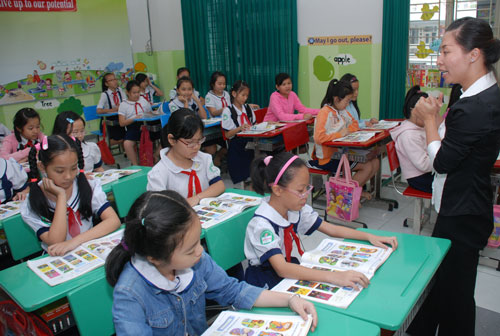 The Swiss EF (Education First) has released the fifth edition of its annual EF English Proficiency Index, showing that Vietnam, with a 53.81 score, ranks 29th among 70 countries in the world in English proficiency and fifth among 16 Asian countries.
In 2014, it ranked 33rd out of 63 non-native English speaking countries.
Vietnam, together with South Korea, Italy, Japan, Taiwan, Indonesia and Hong Kong, is in the group of countries with English skills at an 'average level'.
According to Cao Huy Thao, former headmaster of the Vietnam-Australia High School, there are hundreds of rankings of English skills like the one released by EF. Each organization follow its criteria to conduct surveys. However, as the ranking is based on randomly selected tests, in many cases, the real situation cannot be reflected.
A high school teacher of English in Hanoi, while admitting that the English skills of youth are getting better, noted that Vietnamese 'speak a smattering of English'.
"Young people, especially general school and university students in urban areas, rush to study English. However, the English skills of Vietnamese remain unsatisfactory," he said.
Thao also thinks that the problem lies in the way English is taught at school. Many students learn English just because they want to pass exams or get English certificates to be able to find jobs more easily. 
As the quality of the English teaching at schools remains modest, those who have to use English at their works have to take extra classes at foreign language centers or have private tutoring hours instead of relying on lessons at schools.
Trinh Quang Dong, a member of the Canadian International School, said: "As the teaching just aims to help students pass exams, the students' capability of using English is very low."
"Students need to study English as a living language, not a foreign language, i.e. they need to study English to communicate, work and read documents," he said.
Meanwhile, Ho Van Binh from Saigon University, agreeing that the problem lies in the way of teaching and learning English, warned that if the teaching method cannot be changed, Vietnamese will be able only to have a smattering of English.
MOEt plans to set English as a compulsory learning subject for general education, hoping this will help improve English skills. 
However, Thao said this was not a good idea, emphasizing that English skills can be improved if the curricula and the way of teaching English remain unchanged.

NLD