VietNamNet Bridge - Experts have warned that the tuition increase at state-owned universities will cause the plan on improving the ratio of university students per 10,000 people to fail.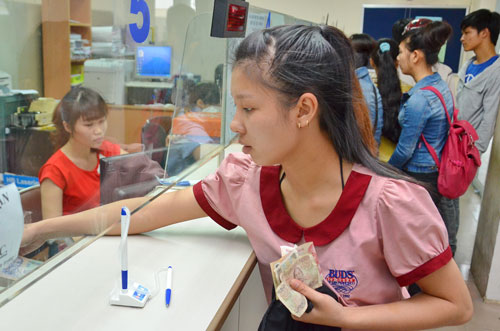 The tuition collected by the schools in the first semester of the 2015-2016 academic year will be the same as the last academic year, but tuition will be higher in the second semester, when the newly released decree takes effect on December 1, 2015.
According to Tran Dinh Ly from the HCM City Agriculture and Forestry University, the Decree No 49 dated in 2010 sets the low ceiling tuition level at VND550,000-800,000 a month for three groups of training majors. 
From the second semester of the 2015-2016 academic year, state-funded schools will be able to collect VND610,000-880,000 a month, or 10 percent higher. The 10 percent tuition increase per annum would be applied in the next years until the tuition is raised to VND980,000-1,430,000 by 2020-2021. 
There are three groups of universities in Vietnam, including people-founded schools, state-owned schools given limited autonomy, and state-owned schools funded by the state budget.
People-founded schools have set the highest levels of tuition. As they do not receive financial support from the state, they can set tuition as high as they want.
Meanwhile, self-determined state-owned schools can also determine tuition, but they under state control. 
The third group of schools, funded by the state, comprises schools which set lowest tuition levels.
And now, with a new decree, the group of schools which offers lowest tuitions is also considering collecting more money from students.
Commenting about the tuition adjustment, Ly said 10 percent was a modest increase. 
Dang Vu Ngoan, president of the HCM City Food Processing Industry University, stressed that raising tuition was a must, saying that the current tuition is just equal to one-fourth of the living cost of a student in HCM City.
He said that the 10 percent increase in tuition was too modest, and one should not expect to see the training quality to improve with a modest increase.
Nguyen Kim Quang, vice president of the HCM City University of Natural Sciences, also said the 10 percent increase was 'inconsiderable'. However, Quang admitted that higher tuition would burden students.
Meanwhile, schools have been warned that they may not be able to enroll enough students if the tuition increases. 
The president of a self-determined state-owned school in HCM City said that 300 students were not attending school even though they had registered to study.
NLD