VietNamNet Bridge - The Ministry of Education and Training (MOET) began on a trial basis a new teaching method in the 2012-2013 academic year, which is expected to be applied permanently in 2018.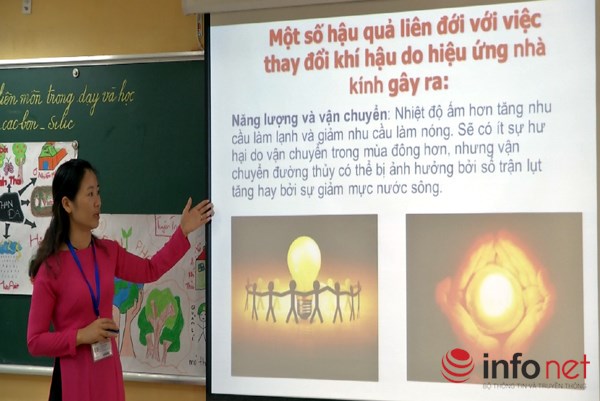 Under the teaching program, students would not study natural science and social science subjects separately, but would have integrated lessons. 
This means that the knowledge related to different science subjects would be provided during the lessons to give students comprehensive knowledge about certain issues.
However, MOET has not released any documents to show what general schools have to do to follow the new teaching program. As a result, schools have been struggling to  look for solutions. 
At the Hoang Cau High School in Hanoi, for example, Biology has been integrated into Life & Science. Instruction about the warming of the earth would also include information about greenhouse effects and possible impact on the animal's living conditions.
Nguyen Thi Hong Hanh, a teacher at Hoang Cau High School, said she has to re-compile lesson plans to prepare for integrated lessons, which takes a lot of time. As there has been no guide about the integration program, the school's teachers have to sit together to discuss how they should redesign syllabuses.
Teachers are required to reform the teaching method, while the textbooks' content remains unchanged.
Luu Thi Lap, headmaster of the school, said teachers have to be creative to design new lesson plans, but they are not sure if they are doing it the right way.
"At pedagogical schools, teachers are trained to have deep knowledge in certain majors. Meanwhile, the integration program requires comprehensive knowledge in many different majors. Therefore, teachers need support," she explained.
Under the old teaching program, teachers could refer to textbooks. But nowadays, they have to create new lesson plans, but they do not know if the new plans are reasonable.
Nguyen Thi Thanh Thao, a teacher at Nguyen Thi Minh Khai High School in Hanoi, admitted that she was unsure about whether she was teaching the right way.
Nguyen Minh Duc, a student at the school, also said that students have to prepare in advance before every new lesson. However, they find it too difficult to do. "There is so much information that we don't know what to choose," Duc said.
While MOET vows to reform general education from 2018, pedagogy schools still have not prepared for reform.
Tien Phong