VietNamNet Bridge - The news that a high number of 68,700 students failed the national high school finals has caused educators to rethink their view about the test.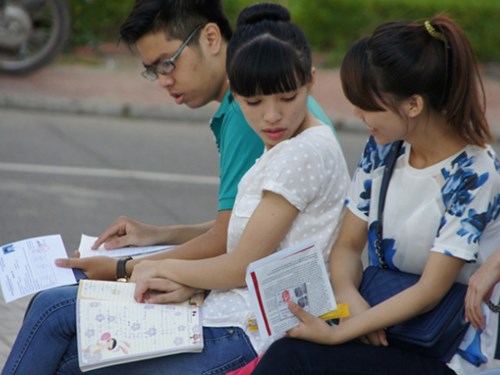 A report from the Ministry of Education and Training (MOET) showed that of the 816,830 students who sat the high school finals, 68,700 failed, for a pass rate of 91.58 percent, a 7.44 percent decline compared to 2014 and about 6 percent less than in 2012 and 2013. 
"This is an acceptable fact. This shows the discipline at exams has been tightened. There's no need to organize exams if we are sure all students will pass the exams," said Dr. Tran Hong Quan, former education minister.
"Moreover, a high percentage of students passing high school finals will not encourage students to study," Quan noted.
"In a schooling environment, there always exist good and bad students. Therefore, it is fair that some students have passed exams while others failed," he said.
A high school teacher in Hanoi noted that the increase in the number of students who failed the exams should be seen as good news because the exam results reflect education quality.
He went on to say that the reported high percentages of students passing high school finals in the previous years were 'fabricated'.
"I don't believe that nearly 100 percent of students had sufficient knowledge enough to pass the exam while local newspapers repeatedly reported that students were 'sitting in wrong classes' and trying to drop out because they could not catch up with lessons," he commented.
'Sitting in wrong classes' is the term used by Vietnamese educators when they talk about the students who move up to the next grade though they lack sufficient knowledge.
"MOET has said nearly 20,500 university exam candidates, out of 720,000 in total, scored of 0-1 for one subject," he commented.
"I believe that the students left the exam paper blank," he said. "If they had written something on the exam paper, they would have received more than one score."
The teacher went on to say that there were also students who did not have basic knowledge in previous years' exams. However, many of them still passed the exams because they could copied from other examinees. 
But bad students could not cheat at the exam this year because of the stricter discipline.
Deputy Minister of Education and Training Bui Van Ga also said the discipline at the exam rooms was tightened this year, and the two-round marking mechanism led to a lower percentage of students failing the exams.
Tien Phong