VietNamNet Bridge - About 75,000 students attending the national high school finals received a 2.25 score on the English exam. Analysts said the education sector had failed to teach English at general school.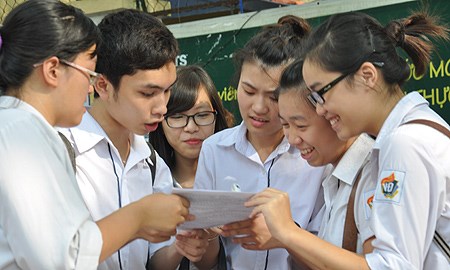 Only 61 percent of students of the Bat Bat High School in Hanoi passed the 2015 high school finals. The school's headmaster Hoang Chau Tuan said the low scores from the English test were the reason that students failed.
Phung Cong Anh, head of the school's foreign language teaching team, said the majority of students live in rural and mountainous areas and they do not attach much importance to learning English. Though the students had learned English for three years at secondary school, their knowledge was poor when entering high school. 
"It is difficult to teach students who have knowledge with many gaps in it," he said when asked if the students' low scores should be blamed on teachers' low capability.
Anh also thinks that many students failed the exam this year because the exam questions were more difficult than previous years.
Disagreeing with Anh, a lecturer of the Hanoi National University, said students must not be blamed for this.
The lecturer said that exam questions were not too difficult and that exam questions must not be blamed.
"We have to look at the situation realistically. The problem lies in the teachers' low capability," she said.
The lecturer, who once took part in the World Bank's projects on teaching foreign languages in rural and remote areas, noted that the foreign language skills in the areas were very bad because of the low capability of teachers. 
"Those who are trained to become foreign language teachers will not work as teachers because of low salaries. Many of the existing teachers in provinces only finished in-service, not full-time training courses," she noted. 
"I once came to Lai Chau province to conduct a survey. There was only one teacher of English in a village. As a result, a teacher of civics was sent to a short-term English training course and then came back to school to teach English to students," she said.
"What does such a teacher teach to students then?" she asked.
Meanwhile, Thanh Nien newspaper commented that the low English scores show it is time to change the way English is taught.
Teachers focus on showing to students how to use verb tenses properly and ask to rewrite sentences in other ways or correct grammatical mistakes.  
Meanwhile, what high school graduates need to have is the ability of speaking communicating in daily life. 
Mai Chi