VietNamNet Bridge - After three years of applying VNEN on a trial basis with reservations, many provinces and cities have decided that the new school model will be used on a large scale in their localities.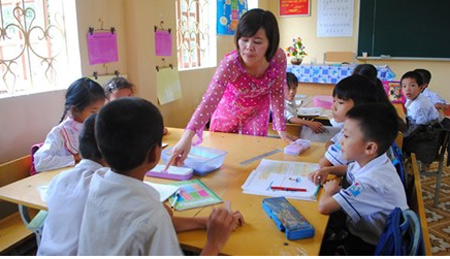 Le Thi Thu Hien is a teacher at the Dai Tu Primary School. Two years ago, Dai Tu began applying VNEN in a pilot program and Hien was one of the few teachers attending the training course about the model organized by the provincial education department.
Hien has been a VNEN teacher since the 2012-2013 academic year. 
"In general, VNEN creates a schooling environment in which students are encouraged to study, while teachers do not preach to students, but just give advice and support to them," Hien said.
The most outstanding feature of the new model is the way the class is organized and managed.
In class, students sit in groups, face to face, so as to be able to discuss and exchange views more easily.
The class is managed by a so called "self-management council." 
The "chair" of the council has the duty of supervising and asking other students to fulfill their works. He or she can also act as the monitor when teachers are away.
This method encourages students in self-study, self-control and self-management. 
Meanwhile, the teachers are free from the blackboard and white chalk, while focusing on organizing the classes' activities.
In the class, teachers just act as instructors, who put forward issues for students to discuss, but they play a very important role in keeping students active in their thinking and learning. 
"Teachers need to cover the activities of all the groups in the class, the work which is more difficult to be done than in traditional classes," Hien said.
"The work was so hard that I could not wear shoes in the first period of applying VNEN, but I had to go in carpet slippers so as to move easily," she said.
Teachers talk less 
Students' lack of understanding of the lessons was the major problem faced by VNEN teachers who joined the pilot teaching program. 
With VNEN, teachers talk less during teaching hours, and instead focus on observing students and giving instruction that helps them learn on their own.
This was a great challenge for teachers, according to Nguyen Thi Hue from the Hung Son Primary School, because they feared students would not understand if they did not explain in detail.
However, Hue has realized that self-study with the teachers' help is the best way for students to receive knowledge.
Hien of Dai Tu School noted that VNEN students are more dynamic and have a better way of expressing their viewpoints than students in traditional classes.
Van Chung