VietNamNet Bridge – For several months, Hong Thuy, a worker with the Euro Window company in Quang Minh industrial zone in Me Linh district of Ha Noi found it hard to find a public pre-school for her two-year-old daughter.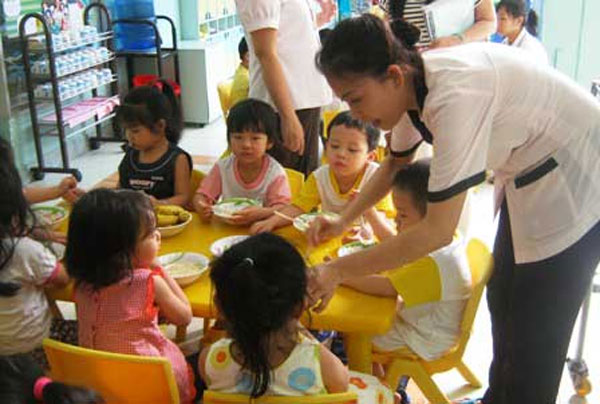 Illustrative image -- File photo
Thuy hesitated to enrol her daughter in a private pre-school because of the high fees.
Finally, to relieve pressure on her mother who was acting as caretaker, she enrolled the child in a private nursery located in the industrial zone.
"The big problem with public schools is that I have not been able to register a permanent place of residence. I can only enrol my daughter in a private nursery school. I am not happy, but I had no other choice," she said.
Her daughter's classroom is no bigger than 30sq.m. She studies with 25 students with two teachers. Each child pays VND900,000 (US$41) a month for tuition fees, and VND12,000 for two meals per day.
With an income of only VND5 million ($230) a month, Thuy has experienced financial difficulties.
Thuy is one of many immigrant workers on the outskirts of Ha Noi who have difficulty enrolling their children in public pre-school where, they believe, the quality is better than in private pre-schools.
The industrialisation process that has caused the mushrooming of processing zones and industrial parks has led to greater population density in Viet Nam's large cities and provinces.
The wave of residents flocking to large cities seeking employment has put a heavy burden on the existing public education system, resulting in the shortage of rooms in public schools.
While many private schools exist, Vietnamese parents prefer to enrol their children in public schools since they are cheaper and the quality of teaching is thought to be better. Another reason is that lately there have been reports of child mistreatment in some private kindergartens in Viet Nam.
Public pre-schools have many advantages, aside from low tuition fees, since they are supported by the State budget. They also have large classrooms and their teachers are thought to be more experienced compared to those in the private schools.
However, immigrant parents who have not been able to register a permanent place of residence in the city where they live are not eligible to enrol their children in public schools.
Faced with this situation, many move to another place in the hope that they can enrol their children there.
Luck finally smiled on Tran Van Kham from northern Tuyen Quang province who has rented a house in Vong La village in Dong Anh district of Ha Noi.
"Before I rented a house in Kim Chung village in the district. Most public pre-schools there were overloaded. We did not have relatives there, so I could not find a place for my daughter in a public nursery school.
"So, we moved to another place, 3km further away. Finally, my son found a place in a public pre-school," he said.
Hoang Thanh Huong, head of the Ha Noi Education and Training Department, said that due to demand, the department had increased the number of public and private nursery schools in the city.
"Those classes are managed by the Ministry of Education and Training. We have tried hard to enlarge the number of schools and improve the educational quality to satisfy the demand of the parents," Huong said.
She said that in many big industrial zones like Dong Anh IZ, besides public schools, there were also 20 private classes that could be chosen by parents. However, many worried about the high tuition fees.
Nguyen Ba Minh, deputy head of the Kindergarten Education Department, said that one month ago, Prime Minister Nguyen Tan Dung asked the People's Committee in different provinces and cities to arrange land in industrial zones to build more nursery schools.
However, those instructions are still a long way from reality.
VNS