Besides academic knowledge, the Vietnamese education needs to provide students with soft skills in order to enable them to meet the demand of employers and adapt to the fast changing world.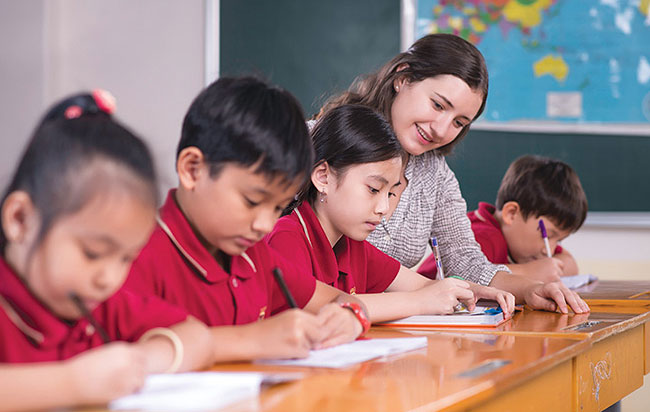 There is a discrepancy between the ranking of Vietnam's education according to the OECD and according to the World Economic Forum. The OECD ranked 15-year-old Vietnamese students 12th among 76 tested countries in math and science. Meanwhile, the World Economic Forum (WEF) ranked Vietnam at 59 out of 124 in terms of human capital. For Vietnamese under 15 the ranking is 78 out of 124.
The reason for the discrepancy is that in Vietnam, from secondary school down, math and science are considered the main subjects and dedicated more time for teaching. Meanwhile at the college level and vocational education level, Vietnam has not done well in equipping students with life skills and learning skills. The curriculum still puts a heavy emphasis on theory instead of practice, and academic instead of soft skills. As a result, graduates do not meet the demand of employers and many have to be retrained.
World Bank's STEP Employer Survey found that leadership, problem solving, creative and critical thinking, and communication were in the top five job- related skills among white and blue-collar workers.
A skilled workforce is vital to ensure that the Vietnamese economy continues to develop. It follows that Vietnam needs to close this skills gap in order to maintain strong economic growth.
Experts have suggested Vietnam address the problems in its education from grade one to college in order to create the human capital that is going to enable the country to develop and catch up with the rest of the world.
In this context, the Vietnam Australia International School (VAS) aims to provide students with not only the knowledge but also the skills they are going to need in order to meet the demand of employers and going beyond that, in order to adapt to the fast changing world.
"The world is changing very fast, so schools have to give students the knowledge and skills necessary to take advantage of the advances in technologies and take up the jobs that are going to appear in the future," said Marcel Van Miert, VAS' executive chairman.
VAS, established in 2004, is a private school group within the national education system offering a K–12 education programme. At present, VAS is offering educational services to some 4,500 students from K through 12 at six campuses in Ho Chi Minh City. In parallel with the national educational programme, VAS teaches the Cambridge International Programme, which is being taught in more than 9,000 schools in more than 160 countries in the world.
Academic needs to be combined with a good command of English and soft skills to help students achieve success later in life, according to Van Miert.
"Besides designing and developing a quality curriculum that fits students, VAS prioritises nurturing students' confidence, excellence, passion,  teamwork, respect for others, integrity and national pride," he said.
VAS provides an enriched teaching environment with a student centred approach to learning, in which each student is encouraged to use both initiative and creativity in their study. Students gain knowledge through different activities such as group work, research and collaboration; presentation and discussion; question asking and problem solving.
After school, students can choose to participate in a variety of clubs available. Clubs are based on different areas of interest such as sport, arts, English and commerce and aim not only to provide students with relaxing time, fitness and social skills but also help students discover and show their personal abilities in fields apart from academia.
The school also emphasises the importance of instilling in students a love for learning and the desire to achieve the highest standards in everything that they do. These contents are integrated in lessons in class as well as extracurricular activities. Through their preparation in a wide range of academic, cultural and sporting activities, VAS students gain the skills, knowledge and understanding, attitudes and values they need to move confidently into tertiary study programmes or the work force, and to become responsible contributors to their community.
VIR