VietNamNet Bridge – Many children in HCM City and neighbouring provinces are enjoying their longest holiday after school at summer camps launched by the city's entertainment and education centres.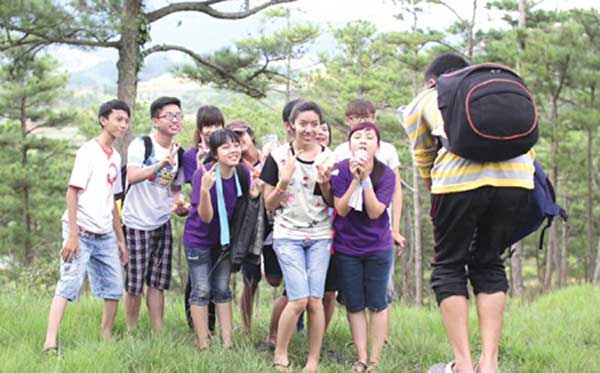 Life skills: Summer camps are offering HCM City kids a new vacation experience.— Photo news.yahoo.com
Ten-year-old girl Tran Thi Khanh Linh of District 7 and her classmates are taking part in Beeproject, a summer camp for children aged 6 to 11 held this month by the Youth Development Company.
"We enjoy playing games and sports outside every day. I've toured handicraft villages around the city to learn about nature, history and culture," said Linh, adding that this summer was the first time she and her friends had no homework.
Linh's mother said she and her husband visited the YDC two months ago.
"After learning about their Beeproject, we agreed that the summer is a good time for the kids to grow by travelling and discovering the world instead of just staying at home to study," she said.
The Beeproject began in late May and will end tomorrow.
Tran Vinh Hung, 13, of Dong Nai Province is attending an eight-day summer camp launched by TGM Training in District 7.
The camp He Phieu Luu Ky 2015 (Adventure Summer 2015), which began earlier this week, is for students between 13 and 18 years old.
The camp's young participants travelled by bus to famous tourist sites in Da Lat and Phan Rang.
"I made friends with dozens of teenagers from different areas at the camp. We have played and shared together and gained many new things as well," Hung said.
"Thanks to my parents and the camp, I have had a holiday that I never had before," he added.
More affordable options include programmes at two entertainment centres, Tomato Children's Home and Citysmart.
They both offer courses on living skills, with camps of different themes for children from four to 11 years old.
The camps are led by experts in culture, arts and theatre from universities and cultural houses.
Prices start as low as VND3 million (US$150) a week and go up to VND6 million ($300).
Many children and students at the camps said this was the first time they had spent summer away from their families.
"I feel that I grew up at the camp," said Hung, adding that she was shy around strangers before joining the camp.
At the Southern Youth Centre, a camp is offered a week in Asian countries for students between 7 and 18 years old. The fees are VND22 million per person.
Nguyen Thanh Binh, a member of the centre's managing board, said: "Our camp focuses on English skills and knowledge of a foreign country. We hope youngsters will be able to become more confident and learn about the world and people around them."
Nguyen Minh, head of the HCM City Department of Education and Training's Student Office, said that many city kids have to take extra courses in mathematics, computer and English, under their parents' guidance.
"Parents should send their kids to summer camps because they can provide them with a free and beautiful time to develop spiritual and physical health," he said.
VNS