VietNamNet Bridge - When asked who was chairing the textbook recompilation program, the Minister of Education and Training Pham Vu Luan did not provide an answer.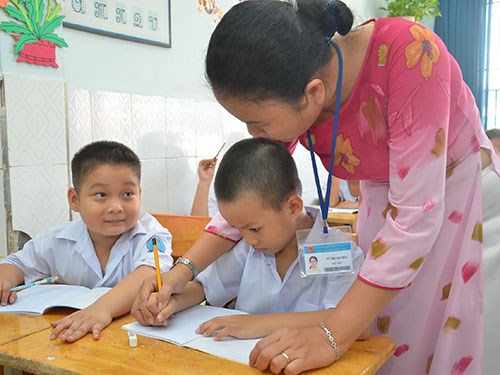 The question was raised at the ongoing National Assembly's Q&A session. 
Bui Thi An, a National Assembly Deputy, who raised the question, said the presentation by Luan about the textbook compilation program was not informative. 
"I would repeat the question and ask the Minister to give the answer exactly to the question and not beat around the bush," she said.
"I asked him who the conductor of the program is. He only said there would be a conductor, but does not say who," she said.
Meanwhile, local newspapers reported that people were anxious about the situation.
Luan said in reply to the question: "It is really necessary to find a conductor who monitors the textbook compilation as Deputy Bui Thi An suggested."
"We have come to an agreement that there will be a chief editor for the whole textbook compilation program, and there will be editors for every learning subject and education level," he said.
Luan's answers show that no suitable candidate to head the compilation program has been found. The person would act as the 'architect' of the new textbook system for Vietnam's general education.
The most detailed information Luan has provided is that the Ministry of Education and Training (MOET) has invited 200 educators and scientists in educational and non-educational sectors to join the textbook compilation staff.
Luan went on to say that after MOET organizes the national high school finals, it will make public the curricula drawn up based on opinions collected from scientists, teachers and the Vietnam Union of Science & Technology Associations.
In the past, Luan admitted there was no general academic editor for curriculum and textbook reform. The reform program submitted by MOET to the National Assembly's Standing Committee did not convince the committee's deputies, and MOET had to redesign the program.
An, at the Q&A session, also raised a question about the position of the rector of the Hanoi University of Technology.
"Why has he position of rector of the Hanoi University of Technology been vacant for the last eight months?" she asked. 
However, the Minister did not answer the question.
"It is a big problem that such a large school does not have a leader for many months," An commented.
Dr. Nguyen Anh Dung, member of the MOET's steering committee on reforming curricula and textbooks for general education, said MOET kicked off implementation right after the program got the nod from the National Assembly in late November 2014.
MOET has sent dispatches to all relevant agencies and organizations which are believed to be capable of compiling textbooks, looking for suitable candidates.
GDVN