VietNamNet Bridge - The tuition exemption policy at pedagogical school students can no longer help attract good students to education schools. The Ministry of Education and Training (MOET) suggested new solutions but they were refused by the National Assembly.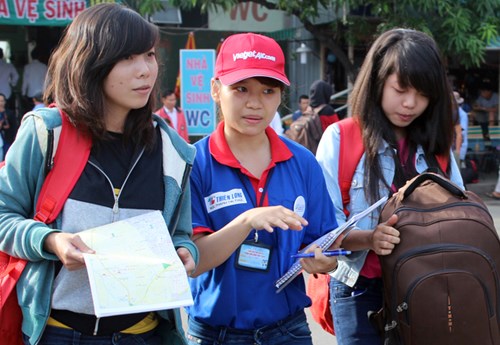 One of the questions raised to MOET's Minister Pham Vu Luan at the ongoing National Assembly's session was about the quality of students in pedagogy schools, or future teachers.
Luan said 15 years ago Vietnam attracted excellent students to pedagogy schools with a tuition exemption policy. 
The students enrolled in educations schools in that period were called the "three-multiplied-by-nine generation", i.e. only students excellent enough to get at least 27/30 scores (3 X 9 = 27) at the national university entrance exam could enroll in pedagogy schools.
In 1998, the government released a decision on exempting tuitions for pedagogical schools in an effort to attract more students to the schools and produce qualified teachers for the future. At that time, pedagogical schools became the choice of many high school graduates.
The number of high school graduates registering to attend the entrance exams to the HCM City University of Education jumped from 22,539 students in 1998 to 29,725 in 1999 and then to 41,235 students in 2000.
However, the tuition exemption policy became less attractive to students because of economic development.
Only 15,000 students attended the exams to the HCM City University of Education in 2010.
According to Luan, MOET has suggested retaining tuition preferences for these students by providing loans. If the students work as teachers after they finish schools, they would not have to pay the debt.
However, the National Assembly did not agree with the suggestion.
Luan admitted that the tuition remission policy alone cannot persuade good students to study at pedagogy schools. 
"It is the jobs, income and future, not tuition, which affect students' choices about what to study," Luan said, explaining that students can seek funds to study from many sources, including the government's preferential loans and scholarships.
Experts have repeatedly warned about the declining qualification of school teachers.
"All things have changed in the 21st century, except education," commented Professor Ho Ngoc Dai, a renowned educator.
What should Vietnam do to reform education? The answer is creating good teachers. However, it is still unclear how to do that.
Dr. Nguyen Minh Thuyet, former deputy chair of the National Assembly's Committee for Culture, Education, the Youth and Children, believes that reform in enrolment needs to be carried out first.
"The State needs to find how many teachers are needed to be sure that Vietnam pedagogy schools do not train too many teachers. These students need to be sure they can find jobs after graduation," Thuyet said.
"It is also necessary to change the way teachers are trained. Curricula should be designed in a way that allows students to spend 40 percent of their time at general school," he said.
GDVN