VietNamNet Bridge - The Ministry of Education and Training (MOET) must bear full responsibility for the increasingly high number of unemployed university graduates, experts say.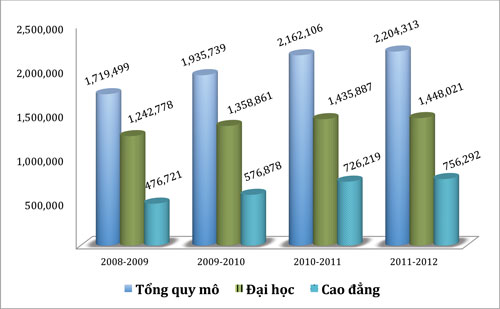 A MOET report released in April showed that the number of people completing university (4-5-year training) and junior college (3-year training) in 2014 increased by 103 percent compared with 2010. This means that the number of unemployed university graduates has increased twofold over the last four years.
The ministry attributed this to the schools' low training quality, poor material facilities and bad forecasting about the labor market. However, experts believe that the biggest problem is the ministry's inappropriate training strategy on expanding higher education which began three to four years ago.
A report shows that the number of university students in 2009-2010 soared by 47 percent  compared with 2004-2005, from 1.3 million students to 2.1 million. 
The figure rose to 2.1 million in 2010-2011 and reached the highest peak of 2.2 million in 2011-2012. 
The figure represents a sharp increase of 28 percent in comparison with 2008-2009, when there were 1.7 million students nationwide.
"The number of students soared by 500,000 just within three years. This is a terribly high figure," said Dr. Phan Bao Ngoc from the HCM City National University.
"The higher education expansion is 10 times higher than that of the HCM City National University which trains 50,000 students a year," Ngoc noted.
The rapid training expansion has led to a sharp increase in the number of university graduates. In 2012-2013, Vietnam produced 425,000 university graduates, up by 165 percent over 2010, and 2.2 times higher than 2005. The oversupply has led to a high unemployment rate.
"The twofold increase in the unemployment rate in 2014 is the inevitable result of the fast pace of training expansion," Ngoc said.
The policy on expanding training has paved the way for more and more schools to open.
In 2004-2005, Vietnam had 113,000 non-state owned school students, while the figure soared by 53 percent to 174,000 in 2009-2010.
The number of state-owned schools and students have also been increasing rapidly. In 2004-2005, Vietnam had 933,000 students at state-owned schools, while the figure soared to 1.2 million in 2009-2010.
In 2010-2012 alone, 33 universities and junior colleges were established. Analysts noted that the number of schools "mushroomed" in the period: junior colleges were upgraded into universities, while intermediate schools (2-year training) turned into junior colleges.
Dr. Dam Quang Minh, president of FPT University, noted that Vietnam tried to open more and more schools, but it did not pay appropriate attention to tightening control over training quality. As a result, Vietnam has a high number of, and low-quality, university graduates, he said. 
NLD