VietNamNet Bridge - The latest report released by the Ministry of Education and Training (MOET) showed that by the end of 2013, Vietnam had 633 PhDs working as lecturers at junior colleges (three-year training) and 8,519 PhDs working as lecturers at universities.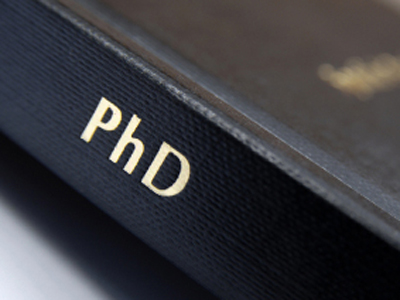 Meanwhile, Vietnam had 24,300 PhDs in total by that time. This means that 15,000 PhDs do not work in the education sector. Where are they?
Officials 
If counting the Vietnamese PhDs in posts of deputy minister and higher, one would see the number is five times higher than Japan.
The information was provided by Dr. Nguyen Khac Hung, former specialist of the National Academy of Public Administration, when talking about the eight provincial chairs who the Prime Minister disciplined for inaccurate reports about the damages caused by natural calamities in 2012.
Some months ago, Hanoi announced the strategy on developing the force of civil servants, under which 100 percent of the officials put under the control by the city's Communist Party Central Committee will have doctorates by 2020. 
Meanwhile, 100 percent of the officials put under the control by the city's People's Committee will have a master's degree or doctorate, 50 percent of whom will have a doctorate. In addition, 100 percent of commune's and ward's authorities officials will have bachelor's degree or higher.
An analyst noted that he can see the title "PhD" on the majority of the name cards shown by the managers of state-owned corporations.
The analysts went on to say that whatever Vietnamese PhDs are doing, they do not focus on scientific research. This is why Vietnam is listed as the country with the highest number of PhDs in the region, but it is at the bottom of the list of countries which have regional scientific works and inventions.
According to the Ministry of Science and Technology, Vietnam now has 24,300 PhDs and 101,000 master's degrees. The number of people with higher education has been increasing by 11.6 percent per annum since 1996. Of this, the number of PhDs increases by 7 percent, while master's have gone up 14 percent per annum.
Counterfeit PhDs, who are they? 
Twenty-one universities, some of which no longer exist, were not recognized by US authorized education accreditation agencies.
Local newspapers found that many managers from state-owned economic groups and agencies have doctorate and master's degrees granted by Irvine University and South Pacific University, both of which are "degree mills".
Nguyen Ngoc An, former director of the Phu Tho provincial Department of Culture, Sports and Tourism, was found as having a doctorate granted by the South Pacific University. 
Nguyen Van Ngoc, former deputy secretary of the Yen Bai provincial Communist Party Central Committee, also received a doctorate from the school priced at $17,000.
Chi Mai