VietNamNet Bridge - In recent days, the "dark corner" of Vietnamese education has become more exposed to the public with cases of school violence and other negative incidents.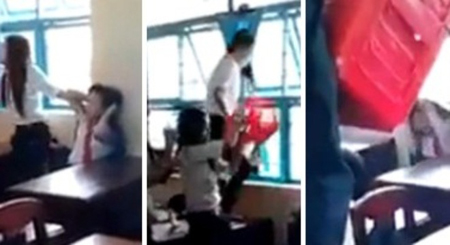 National television VTV, for example, reported that an 11th grader at a high school in Phu Tho province cannot talk after becoming a victim in a school violence case.
Quyen Thi Phuong Ha, the student, was assaulted in September 2014 because of a misunderstanding. Half a year has passed since that day, but the girl still cannot talk because of the trauma.
Ha and her family's lives have changed over the last six months. Ha has to stay away from school to follow medical treatment, while her mother has to work hard to get money for treatment. 
In another incident, on March 13, the parents of Nguyen Thi Huyen T, 5, visited the kindergarten in Nghi Van Commune of Nghi Loc District in Nghe An, asking the school board of management to apologize for what the school's teacher had done to their daughter.
They said the teacher pulled their daughter's ear so strongly that it caused bleeding. Thanh, the mother, said she discovered a 3 cm scratch on the girl's helix when the girl returned from the kindergarten. 
In another incident, a video posted on the internet shows a group of male and female students striking a female student in the face, head and back with plastic chairs amid the shouts and cheering of people standing around them.
This happened in late 2014, but was only discovered in March. The school's board of management said it was not informed about the case, while the girl did not report the case to teachers and parents because she feared the assailants would "take revenge" on her.
Trinh Thu Tuyet, a teacher at Chu Van An High School in Hanoi, has posted on her Facebbok fan page the image of hundreds of students wearing umbrellas and raincoats sitting on the schoolyard in a meeting to celebrate International Women's Day on March 8.
It was dark and rainy in the picture, while hundreds of students stopped in the chilly wind and rain. They are believed to be the students of a school in Thai Binh province.
And recently, a two-minute video clip has been posted on the Internet showing the image of thousands of students at primary schools singing "chac ai do se ve" (Someone will Return) at an official school event.
The song, a hit of Son Tung, is very popular among youth. The "love song for adults" was sung by primary school students, children aged 6-11.
A question was raised why small children do not know songs that fit their age, but only know adult songs. Some analysts commented this is a "deviation from cultural values".
CV