VietNamNet Bridge – Experts have voiced their concerns over escalating school violence, but few solutions have been proposed and agencies cannot agree on how to punish the perpetrators.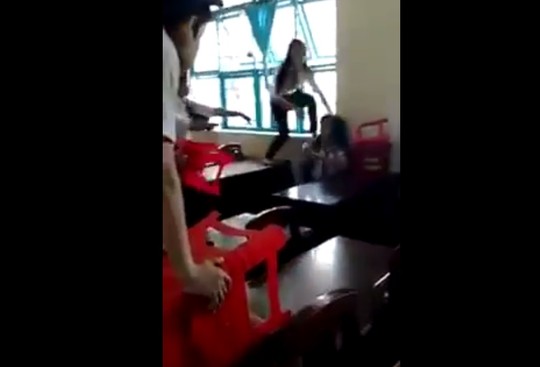 In January 2015, a female student at Ly Tu Trong Secondary School in Tra Vinh City was assaulted by her classmates.
The seventh grader was beaten because she "did not listen to the monitor's advice" as reported by the students at the same school.
The case was only reported to the school and the parents two months later. The student decided to hide the case from everyone because she feared the assailants would "take revenge" on her if she reported it.
"Ironically, a small girl was beaten by fellow humans," a reader with nickname Dong Trieu wrote in an email to Nguoi Lao Dong.
Another reader harshly criticized the school for its behavior.
"Where were the girl's teachers and good friends doing when she was attacked?" she said.
Dr. Hoang Kim Oanh from the Sai Gon University's primary education faculty noted that the school should be blamed.
"I know that every school has its superintendents, supervisors and members of the youth union on duty. Where were they at that moment, when the assault occurred?" she said.
"Many school headmasters I know have to be present at school from 6 am and only leave at 6 pm. The assault occurred in school hours and at school. I cannot imagine that teacher could not discover this assault by chance," she said.
Though agreeing that both parents and schools need to take responsibility for their children's behaviors, a member of the lamchame.com forum commented that the school in this case should take responsibility
As for punishment, few people have agreed on a solution. 
A high school teacher in Hanoi said he does not think the assailants would be disciplined or expelled from school.
"Educators nowadays fear the public's anger," he noted.
The teacher said that several years ago a female student was forced to stay out of school because she fought with a classmate and then cursed her teachers on Facebook. 
The school's board of management was then severely criticized by the public, which described the school's decision as "inhumane" because the student could not return to school the next year.
Finally, the school cancelled the decision and asked the student to return to school.
"In fact, expelling the student from school was the only thing the school could do in this case," he said. "Should they be sent to prison?"
NLD