VietNamNet Bridge – A female student at a secondary school in Tra Vinh province was seriously beaten by nine classmates in January 2015, but the school only recently learned about the case, after a video clip was uploaded on the internet.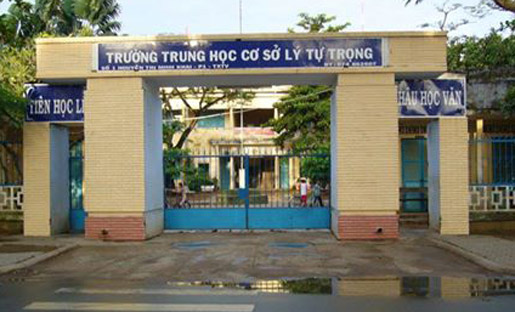 Ly Tu Trong Secondary School in Tra Vinh Province
The video showed a group of male and female students striking a female student in the face, head and back with plastic chairs amid the shouts and cheering of people standing around them. 
At the end of the clip, a male student throws chairs at the female student's face. No one tried to help her. She tried to cover her face but had to sustain the strokes.
She iss a seventh grader at Ly Tu Trong Secondary School in Tra Vinh City of Tra Vinh Province.
Huynh Hoai Minh, deputy secretary of the school's Youth Union, told the press that the incident occurred on January 13, 2015, but the school was only told about the case on March 8. 
The beaten student did not tell her parents about the incident. 
Nguyen Phuoc Thanh, the father of the student, said he discovered the serious injuries on his daughter's head and body on January 13. The girl told his father that she had fallen down the stairs after feeling dizzy.
However, Thanh said the girl suffered from a headache and stomachache for days. After questioning the daughter closely, he realized that he had been beaten with plastic chairs by her classmates. 
Minh said the students involved in the case said the female student had been "arrogant", when asked why they had beaten the girl.
The school's representative told the press that a meeting was convened on March 10 to discuss how to discipline the students who had beaten her.
Under current regulations, students may be expelled from school for up to one year for this kind of behavior. However, Minh said, the school's board of management would think carefully before making decisions.
Diep Quang Nhan, head of the Tra Vinh City Education Sub-department, said the agency also convened a meeting to discuss how to deal with the students.
A parent, who saw the video on an education forum uploaded by a forum member, said she could not understand why the school heard about the case two months later.
"This shows irresponsibility on the part of the school," she said.
The parent also said that the beaten student had been helpless while her classmates cheered the striking.
"Vietnamese people and youth nowadays show no emotion toward others' misery," she said. 
"They (students) are told by their parents not to intervene in fights, or they will be beaten themselves," she wrote.
Ngan Anh