VietNamNet Bridge – Educators complain that the disciplinary measures being applied at schools are not suited to current circumstances, while the students' violations have become more and more sophisticated.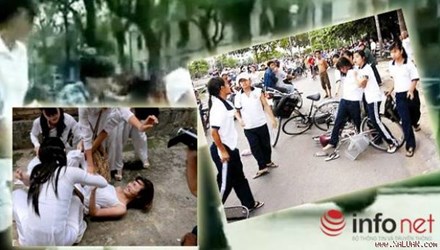 Teachers are under heavy public criticism for increased school violence. Their harsh language and rude behavior toward students are believed to be the seeds of school violence.
Truong Thanh Thuy from the Educational Psychology Faculty of the Hue City University, noted that the teachers' bad behavior could trigger violent cases.
"Many teachers belittle students and insult them with rude words. This seriously affects students' feelings," Thuy said, adding that many students were afraid of going to school because they did not want to be teased by their friends.
In response, teachers argue that it is unfair to blame the increased school violence on schools and teachers.
The headmaster of a high school in district 4 in HCM City said that while modern students' psychology has seen major changes over many years, the Ministry of Education and Training's regulation on rewarding and disciplining students released in 1988 is still applied.
"The regulation cannot deter naughty students," she said. "Modern students are so 'artful' that they can find the 'legal loopholes' to avoid punishment."
"Many students repeatedly play truant, but we can inflict heavy sanctions on them only if they are absent from school for more than 45 days," she said.
The headmaster went on to say that teachers sometimes don't know how to discipline students because the current regulations do not mention such cases.
"The circular dated in 1988 does not say exactly how to deal with the students who speak evil of their friends and revile teachers on social networks," the headmaster said.
"The current regulations also do not say what we should do with students who tattoo and dye their hair," she added.
Nguyen Minh, MA, head of the students' affairs division of the HCM City Education and Training Department, also noted that circular No 08 has become "out of date" which is not suitable to the new circumstances.
A teacher at a high school in Hanoi noted that many punishment measures mentioned in the circular have proven to be unfeasible.
The circular says the heads of schools have the right to expel students from school for serious violations. However, the teacher said the measure will have a negative impact on students and make things even more serious.
"The students would have to learn harder when they come back to school after a period of staying away from school," he explained.
"If they cannot catch up with the rest of the class, they will feel discouraged. This will corrupt students," he said.
Thanh Mai