VietNamNet Bridge – High school finals will take place in July, but teachers and students are already struggling to prepare for the exam.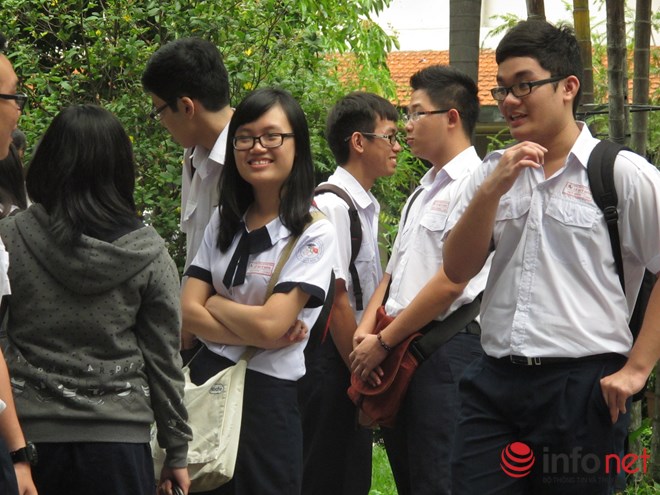 Though her students have asked to warm up for the "marathon", the headmaster of a high school in Hanoi said she was not sure how to prepare for the exam.
"We have no information about what the exam questions will be like so we cannot prepare our students for the exam," she said.
The finals in 2015 are expected to be a special exam, because Vietnam, for the first time, has organized a "2-in-1" exam.
The Ministry of Education and Training (MOET)  Ministry of Education and Training last  October decided to combine the annual national high school exam and the university entrance exam from next year. At present, they are held separately.
The results will be assessed to recognize both high school graduation and entrance to university.
Qualified universities and colleges will be asked to take part in the organisation of the exam, which will be held annually in summer.
Nguyen Thi Thu Cuc, headmaster of the Gia Dinh High School in HCM City, noted that in previous years, when two separate national exams were organized, the high school finals and the university entrance exams, teachers found it easier to help students prepare for the exams.
The students who only want to finish high school would have to review material studied in the 12th grade.
The students who plan to attend the university entrance exams would have to review the knowledge they received in 10th and 11th grades as well.
"The exam questions will need to be designed in a way to be easy enough for students with average learning ability to finish high school, but difficult enough to allow best students for universities," she said.
The headmasters of Tri Duc and Tran Phu High Schools in HCM City have also raised similar questions, emphasizing that teachers need to be informed about the exam questions soon in order to prepare their students for the exam.
Cuc of Gia Dinh School said she was worried about the students with average or weak learning capability.
"I am not sure if they can find which exam questions fit them and which questions are more difficult, reserved for better students," Cuc said, predicting that students would not gain high achievements at this year's finals.
Since MOET has not provided any official information about the national exam, schools are trying to prepare their students the way they feel best.
The headmaster of a high school in Hanoi said that after the Tet holiday, ending on February 22, the school will organize many mock exams.
"There would be two groups of exam questions – the easier ones for students who strive to graduate from high school, and the more difficult ones for those who plan to study at university," she said.
Chi Mai