VietNamNet Bridge – Teachers' harsh language and rude behavior toward students are believed to be the seeds of school violence.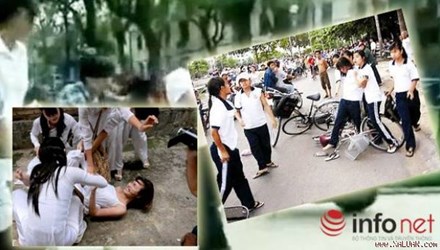 A recent quick survey of secondary and high schools in HCM City showed that the aggressiveness of the involved parties was the reason behind 82.5 percent of the reported school violence cases. This means that the majority of students fight each other just to prove their strength.
Meanwhile, 71.1 percent of students joined fights just to make common cause with others, while action, horror and sexy movies and games were the reasons behind 31 percent of cases only.
The survey pointed out that the parents' argue that violent games and movies are the main cause of the increased school violence.
Two serious cases of school violence recently occurred in the central province of Dak Lak. A ninth grader stabbed his classmate to death with a knife, while a fifth grader beat his friend to death.
"The school violence is really worrying. I believe that only drastic measures can help settle the problem," said Dinh Thi Thao from the Dak Lak provincial Education and Training Department.
What would you do if you are the victim? Thirty percent of students said they would strike the attackers, while 30 percent said they would "keep silent".
Truong Thanh Thuy from the Educational Psychology Faculty of the Hue City University, has drawn special attention from the public when noting that there is another reason behind increased school violence, which has not been mentioned in many research works: the teachers' bad behavior.
"Many teachers belittle students and insult them with rude words. This seriously affects students' feelings," Thuy said, adding that many students get afraid of going to school because they do not want to be teased by their friends.
A secondary school student said that when he entered the sixth grade, he met a physics teacher who often said students had "bovine stupidity".
The student related a story that the teacher one day repeatedly scolded a student before his classmates "How stupid you are! If I were your father, I would die because of the stupid son."
The student did not dare go to school for many days. He only returned after two weeks, when the school's board of management promised to send him to another class where he would not see the teacher again.
A psychologist noted that the teacher's behavior may prompt students to go to extremes.
"Mild students would feel hurt and disappointed, while aggressive ones would insult the teacher or beat him," he said.
"In case the teacher and student exchange blows, the teachers should be blamed," he said.
Thanh Mai