VietNamNet Bridge – Parenting-skill courses have become more popular in Vietnam, attracting mothers and fathers of all ages.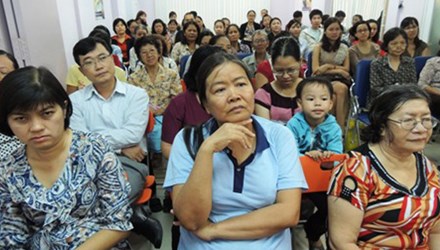 Late last week, nearly 100 parents reportedly attended a talk with psychologists in District 1 of HCM City, where they were advised to join a two-day training course on  ways to teach children. The course fee is VND5 million, equal to the monthly income of an experienced factory worker.
Nguyen Van Chung, a parent from Go Vap District, said he still could not decide whether he would attend a training course because he was not sure if he would have free time on the weekend. However, it was highly possible that he would register to attend because he saw other parents queuing up for registrations, he said.
The training course on life skills for children and parenting skills have increased in number in HCM City in recent months.
The courses are designed with many different themes: "how to lead children to success"; "how to raise children to become clever, dynamic and happy; "why western children stay independent"; and "what skills do modern global citizens need to have".
In general, life skill teachers try to approach parents in free talks, where the teachers speak about the necessity for modern parents to teach their children in the most effective way and they then introduce the training courses.
Observers noted that though Vietnamese parents have had to be more frugal during the economic crisis, they are willing to spend millions of dong on the training courses.
Nguyen Ngoc Lan, who has a 5-year-old daughter, noted that not only children but parents also lack life skills, and therefore, need to go to classes to receive necessary knowledge.
"The old Vietnamese believe that they simply should teach their children the way their parents teach them. Meanwhile, modern Vietnamese don't think so," Lan said. "You need to be professional in teaching children, and therefore, you need to study this in classes."
However, Lan admitted that she finds it difficult to decide which training courses to attend, because there are too many choices.
"I find western children very dynamic and independent. Therefore, I want to know how western parents teach their children," Lan explained. "But a friend of mine believes that the western style will not suit Vietnamese and that it would be better to behave like Chinese parents who impose their will on their children."
Lan said she was confused with the American, Japanese and European styles of teaching children and she does not know which schools to follow.
Pham Thi Thuy, MA of Sociology, commented that every teaching method has its advantages, but Vietnamese parents need to teach children in the way which suit Vietnamese culture and their children's personalities.
She noted that too many life skill classes have opened, and she questioned the quality of the classes and qualifications of the lecturers.
Tien Phong