VietNamNet Bridge – If the Ministry of Education and Training (MOET) acts as a textbook compiler, the textbook market cannot be competitive, analysts have said.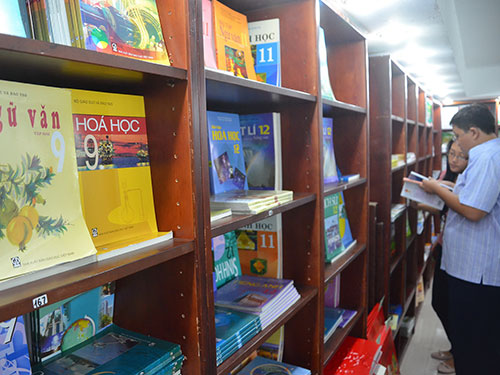 MOET's Minister Pham Vu Luan remains resolute in his belief that it would be better if MOET is a textbook compiler. When asked by the National Assembly's deputies that if textbook compilation is controlled by interest groups, Luan said that there was nothing to worry about.
Meanwhile, a professor at the Hanoi University of Education said the competition among MOET and other compilers would not be fair.
"It would be better if MOET focuses on implementing its function as a state management agency in the education and training sector," he said.
"It is MOET's job to set standard education curricula which serve as the framework for scholars to create textbooks," he said. "If so, the textbooks will bear the spirit of the MOET's education programs, and MOET will not need to spend time on the work."
Dr. Nguyen Khanh Trung from the Education Development Institute agrees that MOET should focus on building up curricula, which is believed to be the most important work.
"The textbook compilation and management should go in accordance with market rules," he said, adding that in a competitive market, users (students, schools and teachers) will decide which textbooks are the most suitable to them.
A lecturer at the Hanoi National University said textbooks to be used at general schools may not be the best ones, but they are chosen by schools simply because the textbooks are compiled by MOET.
The lecturer went on to say that, in principle, all individuals and institutions can compile textbooks for general schools. However, in fact, the members of the same schools will use the same textbooks. Therefore, he thinks there would be no changes in the future: schools will still have "one curriculum, one set of textbooks" like they have now.
He went on to say that under the "one curriculum, many textbooks" policy, students and teachers can use four to five different sets of textbooks at the same time during their lessons.
MOET's Luan argues that MOET needs to release textbooks of its own to be sure that standard textbooks are ready at any time for general schools' students and teachers' use.
Luan said if schools don't have textbooks on time, they will have nothing to teach and study.
Dr. Nguyen Khanh Trung said the worry would be lifted if MOET gives teachers the right to compile lesson plans based on the national programs set by the ministry.
"Textbooks are just products made by some teachers or scholars based on the backbone created by MOET," he said.
Meanwhile, Doan Thinh, an experienced educator, believes that it would be better to have two sets of textbooks, including one for students, providing basic knowledge, and the other for teachers.
Thanh Mai