VietNamNet Bridge – Vietnamese parents on internet education forums have been complaining about the severe discipline applied by teachers to their children.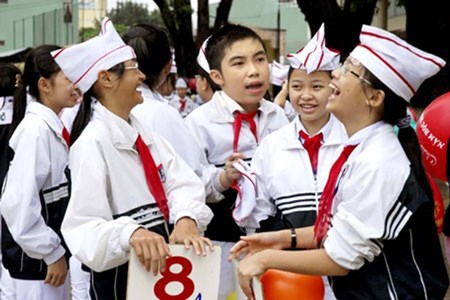 Pham Minh Thai, a parent of a high school student in Hanoi, said his daughter, who was five minutes late to school, was asked to wait outside the school for 45 minutes as punishment.
"I find it unreasonable to punish students this way," he said. "It is unfair to force students to skip one lesson with much useful knowledge just because they are five minutes late."
He said accidents could occur while the students are outside the schools.
"I have been told that students are not allowed to enter class after the lessons begin, because they may bother other students. However, I think it would be better to allow students to wait somewhere inside schools, rather than on streets," he said.
"Who will take responsibility for accidents or if something bad occurs?" he asked
Punctuality is considered important in schools, but in urban areas, problems like traffic jams make it more difficult.
"I believe that it is not a good idea to threaten students with such an odd punishment," he commented.
Pham Thu Ha, an office worker in Hanoi, said her son, a third grader, refused to go to school because he repeatedly was told by the teacher to write reports about the mistakes he made and not to repeat the mistakes.
Since the new academic year, he has had to submit three reports last month.
"I don't think this is a good education method," Ha said. "He had to write reports for every minor mistake he made, even if he forgot textbooks or forgot to learn something by heart."
Meanwhile, in the past, students were only punished if they made serious mistakes, such as fighting with friends or playing truant.
"Forgetting to bring textbooks to school must not be seen as a serious mistake. No one can say for sure that he will never forget anything in his life," the mother commented.
"I wonder if the teacher deliberately punished my child to make me think that I need to come to meet her and give her gifts," she added.
Nguyen Anh Tuan, a 12th grader, said he was told to stay away from the school for two days as punishment for cribbing from his friend.
"I wish I could have received another punishment," Tuan said. "I wish I could have gone to school. Missing lessons is really bad for me, especially when I am making hectic preparations for the high school finals and university entrance exams."
Ngan Anh