VietNamNet Bridge – Students' antipathy towards history has, to some extent, important significance, says well-known historian Phan Huy Le. It should serve as a call for Vietnam to renovate the way it teaches history.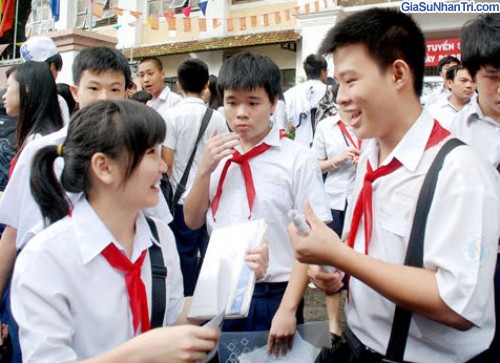 Some years ago, the Ministry of Education and Training (MOET) stirred up the public when it released results showing that thousands of examinees had gotten a score of zero on their history exams.
Recently, Vietnamese students once again let it be known that they have no interest in learning history. The majority of high school students omitted history as a choice for their finals (history is an optional exam subject).
A preliminary survey conducted by high schools in Hanoi some days ago showed that less than 10 percent of students at the schools registered to sit the history exam for their finals, the lowest percentage in comparison with other subjects.
History, like other social sciences, has not been welcomed by students nowadays, who believe that social sciences cannot bring good job opportunities nor a bright future.
A MOET report showed that only 4-5 percent of Vietnamese high school graduates register to sit the C-group university entrance exam. C-group is comprised of social science subjects, literature, history and geography.
Therefore, at general schools, history and geography are considered less important subjects than math, physics, chemistry, biology or literature.
The problem is that students need to learn the "important subjects" to be able to pass the university entrance exams. Meanwhile, they can "throw the knowledge about history and geography away" right after finishing high school.
Forty percent of polled history teachers said they feel sad about their students' indifference to history.
However, analysts believe that it is unfair to attribute the students' indifference to social sciences to their pragmatism. They said that it is necessary to reconsider the curricula and the content of history textbooks instead of blaming students.
Dr Ha Minh Hong, History Dean of the HCM City University of Social Sciences and Humanity, noted that the textbooks are too academic, and laden with complicated theories.
"12th graders, for example, are required to draw the lesson about revolutionary violence or revolutionary struggle," Hong said. "Meanwhile, these are quite complicated issues, which should be research subjects for politicians or propaganda officers".
Given such circumstances, it is understandable that high school students, who do not have much experience, would rather learn everything by heart and write down what they've memorized on their exam papers, rather than express their viewpoints.
Professor Phan Huy Le, Chair of the History Science Association, also commented that with the current teaching methods, curricula, textbooks and teaching staff, it is understandable why history is not welcomed.
Le stressed that students should not be criticized that they are too practical and that they do not have patriotism and national pride. They are tired of history not because Vietnamese history is boring, but because the teaching method is.
He also said that students did not register to sit the history exam not because they hated the subject. A 12th grader of Luong The Vinh High School, where no students plan to sit the history exam, wrote to his teacher, saying that he loves history now and that the subject turns out to be very interesting.
Tien Phong