VietNamNet Bridge – The Vietnamese upstarts tend to spend their money on those things which help them show off their full wallets.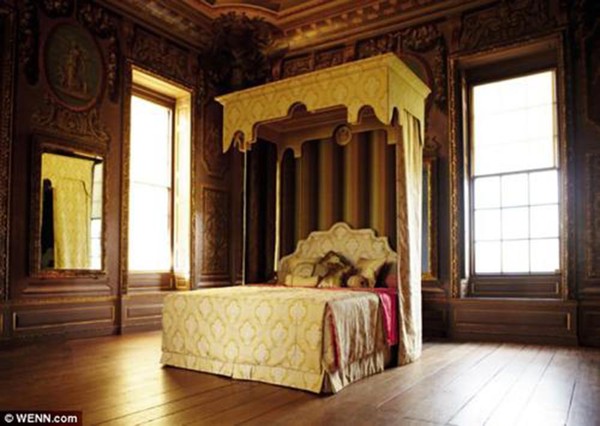 The bed worth VND6billion bought by a Vietnamese tycoon.
A report by the General Department of Customs (GDC) disclosed that more and more luxurious car models have been imported to Vietnam from the UK, France, Germany and the US. Some tycoons reportedly possess the collections of tens of luxurious cars, including ones which rarely roll on the streets.
A big businessman in Ninh Binh province reportedly owns more than 50 "super-cars", which have been displayed in a car park area he rents. The public can come to admire the luxurious cars, and see how rich the businessman is.
One tycoon in the south, a man over 70 years old, seems to be fed up with luxurious cars (although he has some super-cars in his collection already). He has instead decided to spend his money on an original thing: he ordered one of the 60 beds made on the occasion of the 60th anniversary of Queen Elizabeth II's rule. The bed is priced at multi-billion dong.
However, the tycoon does not keep the bed at his home. He has decided to display it at his tourism complex, so that "people in the world know that Vietnam also has rich people".
A businessman in the northern province of Tuyen Quang has displayed his own extravagance in his choice of sunglasses. . The glasses, custom-made to his specifications, are made of 18K-gold and platinum.
Foreign media has many times expressed their surprise about the ways rich Vietnamese spend money. Bloomberg newswire once reported that in Vietnam, a country with modest per capita income of $151 a month, a number of people eat salanganes' nests, food which is considered the "oriental caviar", and retails at $2,500 per kilo.
Here in Vietnam, pho (noodle soup) with beef from Kobe, Japan, is sold at VND650,000-850,000 a bowl, according to the BBC.
Foreign newspapers have also reported on special food and drinks in Vietnam which are mixed with gold. A white wine mixed with gold grains could be priced up to VND10 million. A moon cake (a cake made on the occasion of the mid-autumn festival) with stuffing made of gold is sold for VND3 million.
And a Vietnamese tycoon reportedly spent VND1 billion at a party where he treated his business partners to caviar.
Reuters once reported on a ritual some wealthy Vietnamese women follow to beautify themselves. They go to beauty salons where their faces are covered with 24k gold-inlaid mask, which is believed to help improve their skin. And they pay $88.64, or VND1.8 million for every mask, which is equal to half of the salary a newly graduated officer receives in a month.
And the rich upstarts in Hanoi, Hai Duong, Hai Phong, Ha Nam and Quang Ninh in the north have found a new way to show off their colossal fortunes: by building castles. A castle with original architectural style, perhaps a mixture of Renaissance European, French classical architecture and modern architecture, could be valued up to multi-billions of dong.
Manh Ha