VietNamNet Bridge – The high costs incurred by Vietnamese shrimp exporters on lawsuits and administrative procedures have had a discouraging effect on them.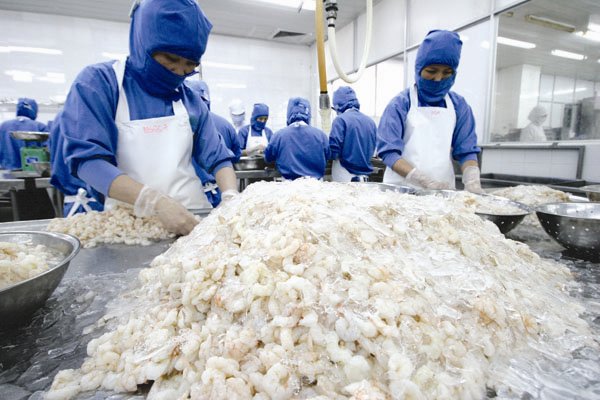 The high anti-dumping tariffs imposed by the US Department of Commerce (DOC) after the eighth periodic administration of review (PRO8) for Vietnam's shrimp products have obviously put Vietnamese exporters at a disadvantage.
However, Vietnamese seafood exporters say they don't have time to weep over the unreasonably high anti-dumping duties. Tthey have to begin preparing for the next period of review – POR9.
According to the Vietnam Association of Seafood Exporters and Producers (VASEP), in preparation for POR9, 30 shrimp exporters will provide information about their production to the DOC for the review. The information will be reviewed by the DOC when considering the tax rates to be imposed on Vietnam's products for the next period.
Each of the companies expects to spend $11,000-15,000 on lawyers' fees.
These sums of money, according to VASEP's Secretary General Truong Dinh Hoe, are equivalent to what they had to pay last year.
Ngo Van Ich, Chair of Nha Trang Seafoods, which has been a compulsory defendant in many administration reviews, has warned that businesses will not only have to pay for law services, but also for many other items.
"I think it would be better for the businesses with weak financial capability to give up," he said, adding that this is a very costly struggle.
Lawyer Dinh Anh Tuyet from IDVN Law Office, who gave consultancy services to Vietnamese shrimp exporters in recent PORs, also said that there are many issues businesses need to consider before deciding whether to join the working sessions for POR9. Businesses will be required to provide large volumes of information for six months, the compilation of which can only be performed by experienced professionals.
Tuyet noted that Vietnamese shrimp exporters who follow simple accounting practices may find it hard to satisfy the requirements on information exposition to be set by the DOC.
Tuyet has also warned that the expenses businesses must incur for lawyers "will not be small". Smaller shrimp export companies, which earn several millions of dollars in export turnover a year, would only be able to afford paying lawyers and staff in charge of preparing documents for the DOC.
America's high anti-dumping tariff on shrimp from Vietnam, now at 25.76 percent, was decided by the US DOC in the eighth period of review.
The two Vietnamese compulsory defendants, Minh Phu JSC and Soc Trang Seafood JSC, bear the preliminary tax rates of 4.98 percent and 9.75 percent, respectively. The average tax rate for voluntary defendants is 6.37 percent. The other enterprises bear the nation's tax rate at 25.76 percent.
The above said preliminary tax rates took effect on March 24, and will be applied until the DOC releases its final decision, slated for September.
The preliminary tariff decided by POR8 was unexpectedly higher than that decided by the POR7 (zero percent) in September 2013.
The recently decided tariff rates are also higher than that in most of the administrative reviews, which were below 4.57 percent, according to the Competition Administration Department (CAD).
TBKTSG