VietNamNet Bridge – The US café giant Starbucks was thought by many to be poised to knock out Vietnamese rivals after just a short period of doing business in Vietnam. But this has not come to pass.
The "Starbucks fever"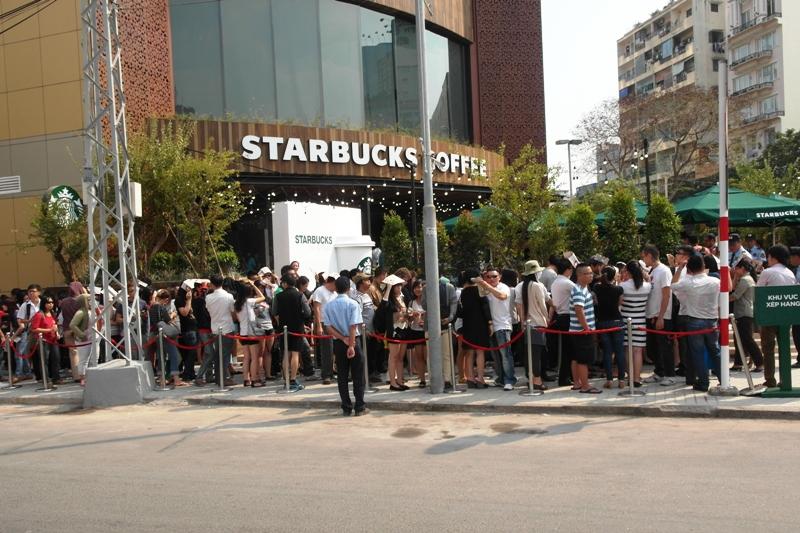 Starbucks made a noisy arrival in Vietnam in February of last year. The name "Starbucks" appeared in all local newspapers many months before it really turned up in Vietnam. The opening of its first shop in HCM City with hundreds of Vietnamese queuing up for their turn to buy a cup of coffee was reported by all business newspapers.
The long queue in front of Starbucks' café, the traffic jam in the area where the shop is located and the overcrowding of the parking lots all seemed to point to a bright future for the chain in Vietnam.
In May of last year, three months after opening day, Starbucks' CEO Howard Schultz stated that revenue of the first café in Vietnam was "beyond the expectations".
Meanwhile, Patricia Marques, Starbucks Vietnam's CEO, said Starbucks would open hundreds of shops throughout the country.
Some sources said that Starbucks Vietnam, in its plan to march toward the north, may open a shop in Hanoi in the second quarter of 2014.
What helps Starbucks attract Vietnamese?
The US café chain has certainly made a good impression on Vietnamese since it presented itself to the public. Shops in HCM City all are located at the most advantageous positions, called the "golden land".
Starbucks also attracts Vietnamese with its special cups and spoons. A university student, 21, said she usually goes to Starbucks with her father on weekends, partially because she just likes collecting Starbucks' cups and spoons.
The company has been doing everything it can to please customers. It organizes free training courses every week on how to enjoy coffee, differentiate flavors and even on making coffee.
Starbucks cools down
But "Starbucks fever", after several months of presence in Vietnam, seems to be cooling down.
No more queues are seen in front of the flagship Starbucks in HCM. And very few Vietnamese are now visiting. Many who came in the past just to find out "what Starbucks means", found no compelling need to return once their curiosity was satisfied.
Now, most customers are foreigners, ones who are used to Starbucks' coffee at home.
Though they are also situated in highly advantageous locations in HCM, inaugurations of the second and third Starbucks shops were relatively low-key affairs. Most recently, Starbucks announcement of the opening of Starbucks Dong Du was accompanied with attractive offers. However, the events failed to capture people's attention.
Vo Van Quang, a branding expert, noted that Vietnamese flocked to Starbucks just to taste the coffee, but after that, they have returned to their familiar habits.
According to Quang, Vietnamese like black coffee with strong flavor, which they cannot find in Starbucks'.
Therefore, Starbucks' might well be advised to target clients who are office workers and women, who prefer weak coffee. And, of course, foreigners, many of whom were already "hooked" on the Starbucks' brand long before they arrived in Vietnam.
One expert noted that, thanks to the culture of coffee drinking in this country,  Starbucks Vietnam has had to spend more money on the shops' material facilities and retail premises in here than in other countries. In Vietnam, only 10 percent of clients buy take-away coffee, far lower than the 60 percent proportion in the US.
VTC