VietNamNet Bridge – Prime Minister Nguyen Tan Dung has approved a project to develop a State-controlled centralised derivatives market, which will begin operating in 2016 and follow international technical standards.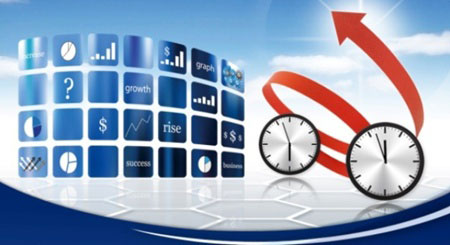 After 2016, derivatives allowed in exchanges will only be securities indices, futures and Government bond futures.— Photo cafef
A derivatives market is a financial market for futures, forwards, options or swaps linked to assets between two or more parties willing to take risks and speculate.
After 2016, derivatives allowed in exchanges will only be securities indices, futures and Government bond futures.
Stock future contracts, government bond options, stock options, and securities indices option contracts will be allowed when the overall derivatives market is well-settled.
In the long-term, this would extend to money and goods in futures, stocks and bond options.
"The establishment of the derivatives market will principally improve the liquidity of the securities market," said Phan Quang Tung, a seasoned retail investor. "Early indications of the market suggest that institutional investors would be more interested in securities indices futures and government bond futures, than retailers."
"As a retailer, I think that when institutional investors jump into the market, regardless of whether their investments go up or down, they will charge up the atmosphere and benefit from it," Tung said. "I personally look forward to playing with individual stock futures when they are allowed."
For the next two years, Viet Nam will hasten to create the infrastructure and finalize the legal framework for the derivatives market. This is seen as the most difficult stage in beginning the market's operations.
Generally, an options contract gives the holder the right, rather than the obligation, to buy a particular asset. However, the option writer has the obligation to sell that asset.
A future contract is between two parties to buy or sell a specific asset of a standard quantity and quality for a price agreed upon, with delivery and payment at a specified date. The contracts are negotiated at a futures exchange, which acts as an intermediary between both parties. The party which agrees to buy the underlying asset in the future is called a "buyer" and is said to be "long", while the one agreeing to sell it, is the "seller" of the contract and is said to be "short".
According to the project, members of the derivatives market are securities firms and authorised commercial banks, which have conformed to the standards set by stock exchanges and the Viet Nam Securities Depository.
The derivatives market will be supervised by the State Securities Commission and directly administrated by the Ha Noi Stock Exchange, or HNX, and the HCM City Stock Exchange, or HOSE. The clearing payment system will be a subsidiary of the Viet Nam Securities Depository – the sole center of its kind in the country.
Source: VNS