VietNamNet Bridge – The private air carrier Air Mekong is in danger of losing its license after one year of flight cancelations.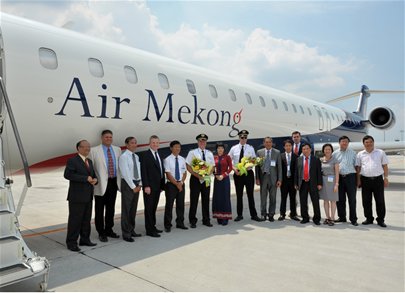 Deputy Director of the Vietnam Civil Aviation Administration – Mr. Vo Huy Cuong said the agency had asked Air Mekong to submit its latest flight plan. Earlier, in one year of canceling flights, Air Mekong did not submit any report to state agencies as prescribed.
Air Mekong started flying from October 2010 and stopped flying on February 28, 2013.
"By the end of this month (March), if Air Mekong does not operate, nor provide any report on its operation and aircraft capacity, we shall report to the Ministry of Transportation on the license revoke," said Cuong.
In fact, Air Mekong currently does not have any flight plan, any aircraft or financial apparatus.
Cuong said management agencies always try to support businesses, with the desire to enhance the competition in the aviation market. However, like Indochina Airlines, if Air Mekong is ineligible, its license may be revoked in accordance with regulations.
Under local rules, an air carrier will have its license revoked if it does not have any flight for 12 consecutive months.
On 28/2/2013, Air Mekong announced to stop flying, after 17 months of operation. Of the three private airlines in Vietnam, only Vietjet Air is operating.
S. Tung