VietNamNet Bridge – Minister of Agriculture and Rural Development Cao Duc Phat spoke with Thoi bao Kinh Te Viet Nam (Viet Nam Economic Times) about changes in agriculture and rural development in 2014.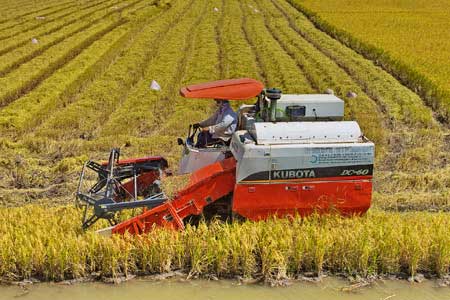 Illustrative image. – File photo 
The ministry has a plan to shift a part of the country's rice areas to cultivate other plants. Can you provide more details about the plan?
In 2013, the country had total rice planting areas of 7.9 million hectares and 1,157ha of corn. We have had too much rice, while having to import nearly 4 million tonnes of corn and soya yearly. So, around 130,000ha of rice will be shifted to cultivation of other crops, mostly corn and soya.
Despite reductions of rice panting areas, the agriculture sector will expand establishing model rice fields with a scale area of between 200,000 – 250,000ha using appropriate rice varieties for export.
Connections between enterprises and farmers would be boosted in rice consumption in the Hong (Red) River Delta and Cuu Long (Mekong) Delta areas. It is estimated that the country's total rice cultivation area in the three crops would reach 7.6 million hectares with rice output of around 43.4 million tonnes.
This year, the country will expand corn planting areas to 1.23 million hectares, an increase of 73,000 hectares compared to last year.
New corn varieties providing high productivity and some gene-changing corn varieties will be put into production, in combination with intensive farming in an effort to gain an output of 5.66 million tonnes.
How will the change be implemented?
The Ministry of Agriculture and Rural Development issued instructions that help localities, and farmers to flexibly shift crop plants in an effort to earn higher incomes and maintain the ability to maintain rice production in the long term.
Further, each locality must research and draft its own strategy and master plan for domestic animal and crop plantings in the area.
Districts and communes could draft their master plans for rice and corn areas, but cannot exactly direct domestic animal and crop planting that farmers must raise or cultivate.
The State is responsible to provide corn varieties and technical support in order to help farmers gain higher profits from corn.
So the ministry's research units will continue to select good varieties that were introduced by international companies.
Prime Minister Nguyen Tan Dung recently urged the agriculture sector to begin planting genetically modified corn varieties.
The ministry is also perfecting legal barriers in efforts to take full advantage of genetically modified corn varieties with high yield.
What measures are being taken to help the animal husbandry sector escape from its existing standstill?
During recent years, the ministry had a direction that focused on industrial, farm breeding and reduction of household breeding.
More than 2 million households that gave up breeding have been living in difficulties due to their income sources only depending upon growing rice.
We have believed that a breeding factory model should be seriously considered, while conforming with the country's conditions and situation, since this model might make millions of farm households become jobless in Viet Nam.
The ministry has adjusted this direction with a focus on creating conditions to develop both industry and household breeding.
In an effort to handle difficulties, we've had to ask the Government for value added tax reductions and exemptions in foodstuff for cattle and breeding farmers, because the tax has contributed an increase of VND1,000 per kilo in production prices.
I think that there is a solution for handling the situation by setting up a direct connection between foodstuff producers and farmers. Some models have shown success when foodstuff did not have a tax placed on them.
Is the direction for limiting the country's tra fish farming areas and households a remedy for saving the tra fish farming sector?
The tra fish sector's paradox was very clear, because tra fish farmers have suffered losses due to low selling prices, despite the country's tra fish exports making up 95 per cent of the world market. Many localities requested to limit numbers of tra fish breeders and areas.
After monitoring this sector for many years, I think that it is not the farmer, but the business sector that should be blamed for the existing situation.
The tra fish farming sector's prestige and effectiveness were destroyed due to the weakness in business management and traders.
A tighter regulation on tra fish production, processing and exports has been issued recently, and is expected to handle existing shortcomings.
What do you say about the field of science, technology and training for farmers, that has been seen as a lever for increasing farmer's incomes?
Among measures for the agriculture sector's restructuring, we must focus activities on science and technology.
This year, we asked the Ministry of Finance to cut out VND35 billion (US$1.66 million) from State Budget spending for scientific research in the agriculture field.
We will cut out around 100 petty projects and science and technology activities would be placed on order for agriculture production development.
We also recently cut down agriculture extension programmes from 100 to 40 due to the weak effect of job training. The ministry will organise special meetings to discuss the improved performance of training programmes.
Source: VNS