VietNamNet Bridge – A lot of Vietnamese enterprises have been trying to develop organic food which is in high demand in the world market. However, it is still impossible to organize the production in large scale because of the required heavy investments.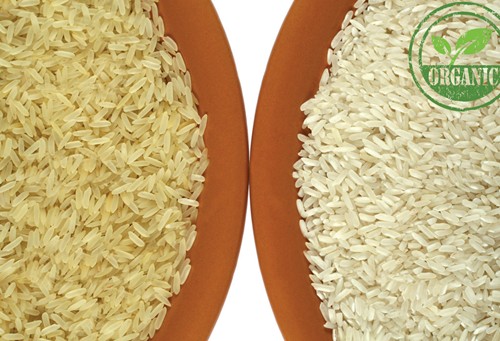 Professor Vo Tong Xuan, a well-known rice expert, affirmed that Vietnam has successfully produced real organic rice – Hoa Sua brand rice, cultivated in the U Minh forest area in Ca Mau province, certified by the US Department of Agriculture (USDA).
This is a biologically friendly product, the cultivation of which does not harm the environment, while it can satisfy all the requirements set by USDA NOP (National Organic Program).
The organic rice has been exported to the UK as well, but in very small quantities, about 600 kilos.
Great opportunities for Vietnam
According to Le Thi Tu Anh, General Director of GAP Agriculture JSC, Vietnam has been known as the biggest rice supplier, but its rice is always cheaper than Thailand's.  
Vietnam's rice is believed to contain a high concentration of mercury, therefore, a lot of rice samples offered to the Singaporean and European markets have been refused.
The representative of a rice export company said Vietnam's fragrant rice exports remain very modest, because the rice varieties are prone to insects; therefore, they need much pesticide.
However, the great opportunities for Vietnam have come, as Thai rice has become less favorable in the world market. A businessman specializing in distributing Vietnamese farm produce in the US has confirmed that Thai rice has been selling more slowly at the Vietnamese community's market in Cali.
The Thai rice's fragrance evaporates after some days, thus raising a doubt that the rice is aromatized.
"This would be a great opportunity for Vietnam's rice," Tu Anh said, explaining that Thai rice, in fact, has been cultivated with chemical fertilizer as well, however, the pesticide content in the rice is lower than Vietnam's, because Thai only have one crop every year.
Making organic food, but how?
The low export prices of the normal rice, plus the increasingly high demand for organic food both have prompted Vietnamese enterprises to produce organic rice. However, developing organic rice would be a thorny path.
According to Xuan, Vietnam's rice needs to have at least two certificates – Global Gap and USDA, to be able to penetrate the US market. However, it would be easier to bring rice products to the US with USDA's certificate, though it is less costly to obtain USDA certificate than Global Gap.
Tu Anh from GAP Company said the high production costs would make Vietnamese farmers hesitate to develop the organic food program.
At first, no one believed in the company's organic food development program, from farmers to local agriculture departments. Despite a lot of preferences offered by GAP, the company only could persuade farmers to grow organic rice on an area of 400 hectares.
Anh said her company has spent VND20 billion on the first phase of the project so far which she borrowed from relatives. Meanwhile, commercial banks refuse to fund the project because they don't believe in the feasibility of the organic food project.
DNSG