VietNamNet Bridge – Over the past years, the Vietnam-Japan strategic partnership has seen in-depth and concrete development, in which economics is one of the bright spots in their bilateral ties.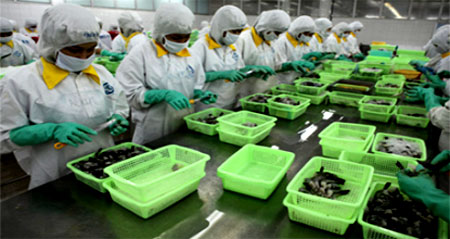 Illustrative image. – File photo 
Two-way trade hit 26 billion USD in 2013 and the two sides set a target of at least doubling their trade turnover by 2020.
Vietnamese Ambassador to Japan Doan Xuan Hung spoke with the Vietnam Economic News about measures to promote Vietnam-Japan trade:
Could you briefly talk about the results of trade between Vietnam and Japan, one of Vietnam's leading economic partners, in 2013?
In recent years, Japan has been one of the leading economic partners of Vietnam in a wide range of fields, from official development assistance (ODA) provision, investment and trade to labour and tourism. In 2013, despite the depreciation of the Japanese yen and numerous difficulties facing the two economies, bilateral trade between Vietnam and Japan reached about 26 billion USD. This was an impressive result.
However, I think there are still a lot of opportunities for Vietnam and Japan to boost bilateral relations between ministries, businesses and localities. I think that it won't be very difficult to raise bilateral trade to 30 billion USD or 50 billion USD in the next several years if the two countries take advantage of their good relations and make the most of opportunities.
Although it has a high demand, the Japanese market has strict requirements on the quality of products. What do you think of these requirements?
Japan has very strict requirements in terms of the quality of imported goods. When exporting to Japan, Vietnam had faced problems relating to the quality of goods. Japan pays great attention to food hygiene and safety. However, if they meet Japanese requirements, Vietnamese products can easily enter Japan and this will be a lucrative market for Vietnamese exports. Therefore, Vietnamese exporters must thoroughly examine the quality of products before exporting to ensure that their products meet Japanese requirements. In addition, they must maintain good connections with distributors in Japan. These distributors will help promote Vietnamese goods in the Japanese market.
The Vietnamese Embassy in Japan has worked with the Ministry of Foreign Affairs, the Ministry of Industry and Trade and the Ministry of Agriculture and Rural Development to seek measures to increase Vietnamese exports to Japan. On our side, Vietnam must improve the quality of export products. However, in some cases, we have to negotiate with Japanese partners so that they will not impose too many regulations on Vietnamese exports.
What measures will be taken in 2014 to promote Vietnamese exports to Japan?
To increase trade value between the two countries in 2014, we will concentrate on several solutions. Firstly, the Vietnamese Embassy in Japan will work with the Ministry of Agriculture and Rural Development to send a business delegation to participate in a trade conference on agricultural, forest and aquatic products that will take place in Japan in 2014. The conference will offer Vietnamese businesses opportunities to seek partners to boost the export of agricultural, forest and aquatic products to Japan. Secondly, the Ministry of Industry and Trade will enhance relations with Japanese localities to intensify trade promotion activities in Japan. Thirdly, it is necessary to provide Japanese consumers with more information about Vietnamese export products. Fourthly, we will boost trade promotion activities in localities of the two countries.
It is vital that Vietnamese exporters must keep a close watch on market changes. The Vietnamese Embassy and the Vietnam Trade Office in Japan will provide them with more information about products for which the Japanese market has a high demand so that Vietnamese exporters can present their products. I believe the two countries will achieve better bilateral trade results in the coming time.
Source: Vietnam Plus