VietNamNet Bridge – The Trans Pacific Strategic Partnership Agreement (TPP) is believed to create 1 million jobs in Vietnam's leader and shoes industry. In order to take full advantage of the agreement, Vietnamese shoes makers have to settle the existing material problem.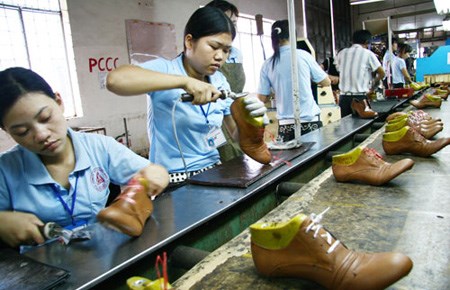 The Lien Anh Leather & Shoes Company in Binh Duong province has incurred a loss of $100,000 because of the low-quality import leather consignment.
However, Lien Anh does not intend to use the leather from domestic sources because of the low quality of the products.
Lien Anh, which does not want to continue relying on material imports, is considering buying a tanning factory in Dong Nai province. If the deal is made, the factory would provide finished leather products to the company to fulfill its export contracts, according to Truong Thi Thuy Lien, Deputy General Director of Lien Anh.
Lien said the leader offered by domestic tanning factories are mostly low quality cowhide in small pieces which cannot be used to make the products for export. Meanwhile, importing material leather to tan domestically is not a good idea, because it is difficult to control the quality of the imports.
Lacking high quality leather to make shoes has been the big headache not only to Lien Anh, but to all other shoes makers as well. The best leather products should be imported from Brazil, the US or Italia. However, the leather products are always very expensive, thus making the production cost high and the finished products uncompetitive.
According to Diep Thanh Kiet, Deputy Chair of the Vietnam Leather & Shoes Association (Lefaso), there are some 400 leather & shoes enterprises nationwide, but the domestic tanning factories can meet 20-30 percent of the demand for tanned leather.
Nguyen Van Khanh, Secretary General of the HCM City Leather & Shoes Association said the situation seems to get worse when a lot of tanning enterprises in HCM City have to relocate to other neighboring localities after the "Hao Duong scandal."
Hao Duong, a leather company in Nha Be district in HCM City, has to suspend its operation for six months since November 20, 2013, under a decision by the HCM City People's Committee after it was caught discharging untreated waste water directly to the environment.
According to Khanh, only 10 tanning factories are still existing in the city, each of which have the capacity of 10 tons of leather per day. Meanwhile, there are some 100 shoes makers which have been mostly using leather imports from China, Taiwan, South Korea and the US to make the products for export.
A report by the Ministry of Industry and Trade showed that Vietnam imports 5 million square meters of tanned leather every year.
Regarding the opportunities to be brought by TPP agreement to the leather and shoes industry, Lefaso said at least one more million jobs would be created.
However, analysts have warned that the agreement may harm Vietnamese shoes makers, who have to import materials from other companies to make finished products. If Vietnamese enterprises want to enjoy the tariff preferences, their products have to contain at least 40 percent of domestically sourced raw materials.
Compiled by C. V