VietNamNet Bridge - After Starbucks, another famous American brand of coffee has begun to enter the Vietnam market. It is Dunkin' Donuts.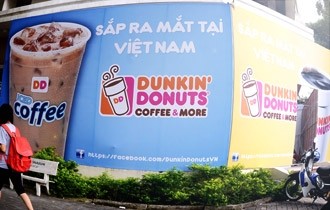 The core product of Dunkin' Donuts is donuts. But maybe they can market its different taste of coffee.
In Vietnam, according to Dunkin' Donuts, the franchisee is the Vietnam Food & Beverages Services Limited Company (VFBS) of the Imex Pan Pacific Corporation, chaired by Mr. Jonathan Hanh Nguyen.
Not disclosing the cost of the franchise because of its commitments with VFBS, according to Mr. John Vurughese, Global Vice President of Dunkin' Brands Group, the criteria for choosing a partner of Dunkin are very strict. Apart from financial ability, the partner must have experience in the management and operation of the restaurant chain.
Dunkin' Donuts is a chain of leading coffee and pastries in the world. It is in the top 10 food and beverage brands in America.
According to two American market research firms NPD and CREST, Dunkin' Donuts takes the lead in the coffee market in the U.S. with more than 1.7 billion cups of coffee sold per year.
Dunkin' Donuts is the biggest competitor of Starbucks in the U.S. Currently, Dunkin's Donuts has more than 12,000 stores in 32 countries.
NCDT