VietNamNet Bridge – The Viet Nam Shipbuilding Industry Group (Vinashin) would need nearly VND1.2 trillion (US$57.1 million) to pay out redundancy entitlements for 14,000 employees laid off under the company's restructuring plan.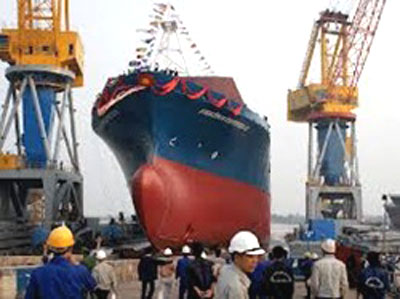 Vinashin will pay redundancy entitlements for 14,000 employees laid off under its restructuring plan. (Photo nld)
The statement was made by Vinashin deputy general director Chu Dinh Dong in a meeting with the Ministry of Transport and the Viet Nam General Federation of Labour last Friday.
Vinashin has more than 26,000 employees and is expected to retain 8,000 workers across eight member companies, under the plan.
Employees in the remaining 226 member firms face uncertainty after a year of unstable work.
"Vinashin will be under great pressure if not finding any way to solve the regulation for the redundant 8,000 workers. Every month the group owes about VND30 billion ($1.4 million) because of a lack of money to pay for salaries, social insurance, health insurance and so on for those employees," Dong said.
The company's latest statistics showed that more than 7,000 out of the 8,000 workers were fired but have not received any salary or insurance payments.
According to labour laws, enterprises must pay severance allowances for employees within 30 days of ending labour contracts.
Dong said the group leaders had asked member companies to fulfill their responsibilities with workers' rights from October 1.
Vinashin would downsize by 14,000 workers according to its restructuring plan but will need further government subsidies to fund payment obligations in full.
Source: VNS