VietNamNet Bridge - The increase of coal and gas prices made input costs of the Electricity of Vietnam Group or EVN rise by VND7.2 trillion in 2013. In the first half of the year, EVN's debts to the gas and coal groups nearly VND10 trillion ($476 million).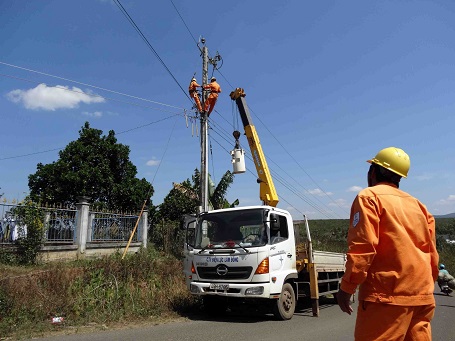 Talk about the time for raising electricity prices, Deputy Minister of Industry and Trade – Mr. Tran Tuan Anh, said that in August, the energy industry faced big pressure from the cost of production.
The two important inputs for electricity - coal and gas prices - are rising sharply. Specifically, in April 2013, the coal industry was allowed to increase coal prices and the prices for coal sold to the power industry also increased by 37-40 percent, under the market price mechanism.
The increase of coal price made the input cost of the power industry increase by VND4 trillion in 2013.
At the same time, for gas fuel, because of the price adjustment of the Vietnam Gas Corporations Vietnam (PV GAS), the power sector had to pay an additional of VND3.2 trillion for gas.
Earlier, in the discussion with the cement and steel industry, Mr. Tran Viet Ngai, Chair of the Vietnam Energy Association, said with the average price of VND1,600/kWh, the electricity sector suffered huge losses, not earning money to pay for input materials for other sectors such as coal and gas.
In the first half of 2013, the power sector owed the coal and gas industries nearly VND10 trillion. Since electricity prices are fixed at low levels, it is difficult for EVN to make financial balance and to have enough capital for reinvestment and development.
Ngai said the increase of electricity prices by 1-5 percent each year is not enough to cover the loss from selling power below production cost and the steel and cement industries should have sympathy for the electricity sector.
Deputy Minister Tran Tuan Anh said the Ministry of Industry and Trade and the Ministry of Finance realized that it is necessary to raise the power price to ensure financial balance and business of EVN. Furthermore, the increase in electricity prices is an inevitable step in the process of taking electricity price to the market mechanism.
He also stressed that the electricity price adjustment is always considered and calculated to not affect the balance of the macro-economic objectives and make no negative impact on the lives of people, particularly the poor and low-income earners.
To ensure transparency, auditing of EVN is not only conducted by the Ministry of Industry and Trade and the Ministry of Finance but also the representatives of consumer associations and the Vietnam Fatherland Front.
Reports of electricity production costs in 2010 and 2011 have been published by the Ministry of Industry and Trade. Regarding the audit of production cost of electricity in 2012, the Ministry of Trade and Industry in collaboration with the Ministry of Finance will jointly check and announce the results this October.
Na Son