VietNamNet Bridge - While Vietnamese banks are not much interested in selling bad debt for debt settlement companies, many foreign investors are very excited.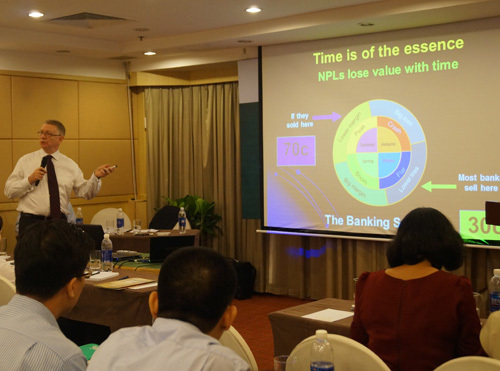 Sheehan talks about bad debts in Vietnam at a seminar on Thursday.
Speaking at a seminar in Hanoi on Thursday, Mr. John Sheehan - former executive director of Lehman Brothers Bank, confirmed that billions of dollars are waiting to run into Vietnam. John had experience in handling bad debt in more than 22 markets worldwide.
The Irishman expert said that Vietnam has established a bad debt settlement company but the problem of this company is its "lack of money" and it only "solves the surface matters."
Commenting on the charter capital of VND500 billion ($25 million) of the Vietnam Assets Management Company (VAMC), he said that this amount will not be enough to solve the current bad debt problem so Vietnam is in need of major funding from outside.
Agreeing with this view, Mr. Truong Thanh Duc – Chairman of the Legal Club of the Bankers' Association - admitted: "To address the problem of bad debt, Vietnam needs money but it does not have, therefore, it needs capital from abroad. The problem is almost policies remain closed for foreign investors, such as regulations on share ownership, stock purchase, land holdings..."
Foreign investors, especially financial institutions, many times expressed concern to the bad debt of Vietnam before the establishment of VAMC was revealed. Most recently, in an interview with Bloomberg, VAMC General Director Nguyen Huu Thuy also revealed that VAMC would call for overseas capital.
Thuy also disclosed the identity of the first few foreign customers who want to buy bad debts of Vietnam, including International Finance Company of the World Bank, TPG Growth LLC - a unit of Standard Chartered. To date, IFC has confirmed its meeting and negotiation with VAMC while the remaining two declined to comment.
According to Sheehan, Vietnam has yet to create conditions for foreign capital to flow into when the infrastructure, the legal framework have not been improved.
"I already have a list of investors who wanted to enter Vietnam. They see Vietnam as an attractive destination but they cannot find any way to pour capital into Vietnam. Thus, the burden is on the Government's shoulders. They are the ones to create a better infrastructure for investors," Sheehan said.
Many other markets in the region have also sought to improve policies to broad legal way for foreign capital to "save" their banks. In case of Thailand in dealing with non-performing loans (NPLs) in 1998, the government decided to allow foreign investors to own houses regarding to bad loans that they purchased as a temporary solution to help real estate values increase. Similarly, in 2002, the Philippines changed the laws taxes on foreign investors for them to give more money to buy bad debts.
Sheehan, who is currently executive director in Southeast Asia of Captial Services Group added that most foreign investors are interested in bad debt secured by real estate in Vietnam. They primarily come from the U.S. Meanwhile, a group of investors from Europe and Japan are interested in the bad debts of other sectors.
In the opinion of Sheehan, investors generally do not pay much attention to the bad debt figures announced by the market because the true scale of the bad debt is usually much larger. He said in the countries of transparency, the bad debt may double or even 3-4 times higher in the markets lacking transparency.
Na Son