VietNamNet Bridge - Hundreds of farmers in central and central highlands provinces like Lam Dong, Dak Lak and Quang Nam are in miserable circumstance because of Chinese-origin crops.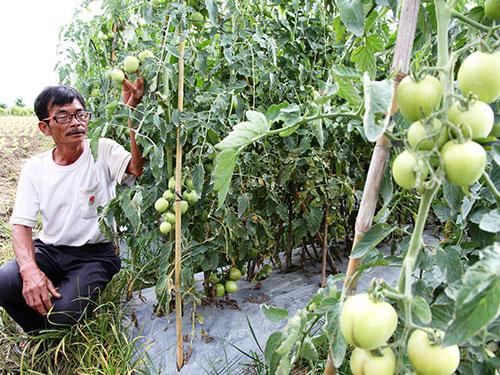 Nato tomatoes.
Farmers in Thanh My town and the neighboring communes of Don Duong district, Lam Dong province are crying on their wide tomato fields.
These households were cheated by the seed providers who fraudulently exchanged the Anna tomato seeds of the US by the Nato tomato seeds of China, which have not been experimentally planted yet. According to statistics from Don Duong district authorities, 239 families were fraudulently exchanged with more than 1.7 million tomato seedlings.
Upon detection of the fraudulence, many households removed the Chinese seedlings to replace with other tomato varieties or new crops. Approximately 100 households continued to invest in these trees. At present, the harvest season has come but nobody wants to buy this product.
Ms. Ta Thi Hoa, in Nghia Tan halet, Thanh My town, said: Her family planted 7,000sq.m of Anna tomatoes with seedlings provided by a familiar nursery in the town. However, when the trees were about 50 cm high, the family discovered that this was a Nato variety. However, the nursery owner encouraged the family to continue taking care of the trees and promised that their products would be purchased by traders.
"Tomatoes have ripened but traders said the quality of Nato tomato is low and offered dirt prices. After several days of waiting, a trader came to buy tomato at only VND4,000 per kilo. At this price, my family gets loss of VND200 million ($10,000)," Hoa said.
At the same time, chilli growers in the two communes of Duy Trinh and Duy Chau in Duy Xuyen District, Quang Nam Province are also in trouble.
Ms. Tran Thi Hai, in Duy Chau commune, said last year, chili traders gave farmers a new variety of chili for free. The seeds were packed in wrappings with Chinese texts. The traders also promised to buy chili at high price so many farmers planted this variety.
The trees grew very fast. The trees were big and strong but when they reached the height of 15-20 cm, their leaves began falling, and their roots started to be rotten and died. Some survived trees yielded fruit but the fruit was rotten because they touched the ground.
Mr. Tran Tan Trung in Duy Trinh commune lamented: "My family planted 3,000 sq.m of chili but they most of them died and I harvested only 50kg. Traders offered to buy at only VND4,000 per kilo".
According to the local authorities, 15 households in Duy Trinh Commune planted Chinese chili variety on two hectares. Approximately 30 percent were completely dead. Some others had diseases or the fruit was rotten.
The productivity of the Chinese chili variety is very low, about 800 kg per 1,000sq.m compared to 1.5-1.7 tons of other varieties.
Firms cheat farmers
Being reported of the incidents, the local authorities have calculated the damage and investigated the nurseries that provided unlicensed varieties to farmers.
In Dak Lak province, Mr. Nguyen Huy Phat, head of the Plant Protection Bureau, said the Cu Puor Cooperative in Ea Kar district was fined for planting an unlicensed Chinese squash variety in Ea Kar 2 and Krong Bong districts. Hundreds of farmers have fallen into debt because this squash variety yielded very low productivity.
According to this cooperative, it bought the Chinese squash variety from the Vietnam Agricultural Investment and Development Company, which is based in Gia Loc district, Hai Duong province. The case has been transferred to the Plant Protection Agency for clarification.
According to the authorities of Don Duong District, the agencies providing tomato seeds to nurseries had informed the nurseries that this was a Nato variety but when nurseries sold tomato seeds to farmers, they told farmers that this was Anna tomato seeds because the price for one kilo of Nato seeds is VND10 million ($500) less than 1kg of Anna seeds.
The seed providers and nurseries have agreed to compensate farmers in Don Duong District.
Mr. Pham Van Du, deputy director of the Cultivation Department of the Ministry of Agriculture and Rural Development, said the state has very specific rules about the use of exotic plant varieties. The new varieties must pass rigorous inspection and testing procedures to be licensed.
Du said that the use of exotic plant varieties is dangerous. These varieties are often unstable in quality and even carry pests. Therefore, farmers should be very wary and not to purchase cheap seeds without clear origins in the market to avoid severe damage.
Son Ha