VietNamNet Bridge – The Vietnam Textile and Garment Group (Vinatex) has completed the audit and business valuation for its first issue of shares to the public (IPO) in the fourth quarter of 2013.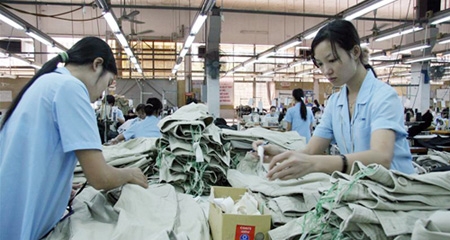 Vinatex's Deputy General Director Le Tien Truong said the group's subsidiaries do not have bad debt.
Vinatex's Deputy General Director – Mr. Le Tien Truong, said at a meeting yesterday that so far this year the group replaced 38 officials who represented Vinatex's capital at its subsidiaries because these officials failed to meet the group's targets, and their age and qualification were no longer appropriate to the position.
"According to regulations, the manager whose company incurs losses for two consecutive years must be replaced, but we were stricter. For example, if a company is assigned to have dividend of 15 percent but it can reach only 10 percent for two consecutive years, its director will be dismissed," said Truong.
Truong added that by this moment, Vinatex's subsidiaries did not have overdue debts and the liability was equivalent to 90 percent of the same period last year. The debts of between 12-24 months was about VND50 billion ($2.5 million) for the entire group.
With regard to the IPO route, he said Vinatex had completed business valuation before June 30. The State Audit Agency also completed the audit at the group, which is pending for government approval.
"In the next 90 days, the group will build the business development project for the first five years after the IPO. In the fourth quarter, the IPO will be performed," said Truong.
According to Vinatex's report for the first half of 2013, the group completed the half-year revenue plan, earning VND20.227 trillion, up 11 percent compared to the same period of 2012. Its export turnover reached $1.281 billion, an increase of 13 percent year on year, equivalent to 50 percent of the annual plan. Import turnover accounted for 48 percent of the yearly plan, an increase of 7 percent over the same period, reaching $581 million. Domestic sales also rose by 11 percent, reaching VND10.079 trillion.
In the second half of 2013, the group expects to earn VND23.565 trillion of turnover, export revenue of $1.47 billion and profit of VND919 billion, growing by 13, 12 and 11 percent compared with 2012, respectively.
US$1 = VND21,400
Tung Son