VietNamNet Bridge – Nurturing the ambition of turning Pho 24 into a world class brand, eventually Mr. Ly Quy Trung decided to sell this brand for $20 million.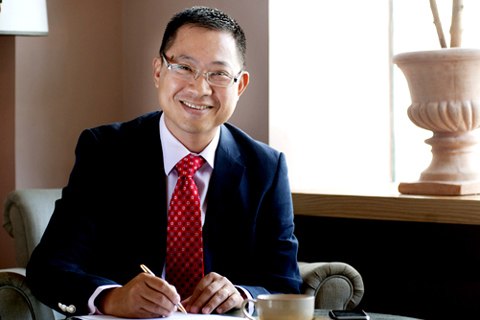 Ly Quy Trung, the founder of Pho 24 brand.
The acquisitions of Pho 24 took place two years ago, including the time for negotiation. During the past two years, even the well-informed people could know little information about this affair.
Accordingly, Viet Thai International Co., which owns the Highlands Coffee brand in Vietnam-- purchased 100 percent of the shares of Pho 24 from Ly Quy Trung for $20 million in November 2011. Trung built the chain of Pho 24 restaurants with only VND1 billion ($50,000).
Viet Thai International Company owned by Mr. David Thai then sold 50 percent of the stakes of Pho 24 to Jollibee (Philippines). The transaction worth $25 million was made through Jollibee Worldwide – a member of Jollibee Group.
All what the media has known and the information has not been confirmed to be correct or not because the three parties - Ly Qui Trung, Viet Thai International and Jollibee have never confirmed or denied it.
Experts analyzed why Mr. Trung had decided to sell Pho 24. This decision made many people surprised because everyone knows how powerful the ambition was to turn Pho 24 into a world class brand of Trung. He used to state that Pho 24 would be the company of the whole community, to be listed on the stock exchange and become an international brand.
Though being surprised, most experts appreciated Chung's decision because Pho 24 had shown signs of going down before the time of acquisition. At that time, local Pho 24 restaurants were worn-out although the service and food quality were still guaranteed. Besides, Pho 24 clearly revealed the weaknesses of the franchise system. When the scale of operation increases, the challenge of quality management also rises. This form requires constant checks and if the franchisee does not meet the required standards of the franchisor, it must end the contract to avoid losing the brand image.
Mr. Trung kept entirely silent about any "judgment." However, Trung recently explained why he sold his "brainchild" in his autobiography.
Finance is the biggest problem that Trung decided to sell Pho 24 after 11 months of negotiations and consideration. According to Trung, to upgrade restaurants, promote advertising and investment in projects in international markets, the company needs a lot of money.
Meanwhile, his central point is avoiding bank loans. Lack of capital while VinaCapital was about to divest from Pho 24 after five years of investment, selling the brand was a good choice.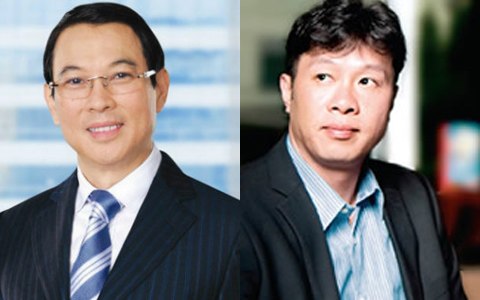 Mr. Tony Tan Caktion and Mr. David Thai, the new owners of Pho 24.
Other causes may include system management gaps and the competition from a series of fast-food brands such as KFC, Lotte...
Pho 24 currently has two new bosses: the Jollibee Group of Mr. Tony Tan Caktion and Viet Thai International of Mr. David Thai. Both firms hold 50 percent stakes after Viet Thai International sold 50 percent of stakes in the Pho 24 to the popular fast food brand of the Philippines.
In the Philippines, the name Tony Tan Caktion is considered a living legend in business. In just two decades, Tony Tan from the owner of an ice cream shop became a billionaire with more than 2,500 fast-food restaurants in the world. He founded Jollibee, which helped him earn hundreds of millions of dollars through franchising. Outside the Philippines, China, America, Southeast Asia and the Middle East are important markets of the group.
The second boss of Pho 24 is David Thai. Thai is the first overseas Vietnamese who registered a private company in Vietnam. He is very successful with the coffee brand Highlands Coffee and confirms the leading position in the beverage franchise model in Vietnam.
The Viet Thai Group was founded in 2002 with two Highlands Coffee shops in Hanoi and Ho Chi Minh City, and then developed to nearly 100 stores in six provinces.
Experts worried about Pho 24 when Ly Quy Trung decided to sell this brand. However, the concern seems to be redundant when Pho24 is constantly growing in size.
By June 2012, only about half a year after the acquisition, Pho 24 opened 70 stores. This brand also plans to open more stores in all major cities of Vietnam.
In December 2012, some more Pho 24 restaurants opened. During the opening ceremony, David Thai said that many new restaurants would appear in big cities such as HCM City, Hanoi, Da Nang, Vung Tau, Nha Trang, etc. The target is to have 1,000 stores in the future.
Along with this, this brand also decided to compete on the price by reducing the price for a bowl of pho from VND50,000 ($2.5) to VND39,000.
VTC