VietNamNet Bridge - These days the number of seafood processing workers in Tra Noc Industrial Zone (Can Tho City) and Trung Hoa Industrial Zone (Ca Mau) have been reducing.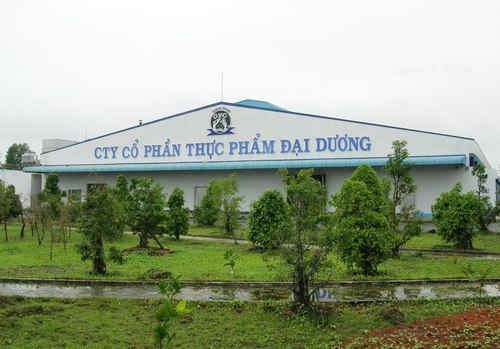 Dai Duong Company resumed operation after having a new boss and being lent by the bank.
Along Highway 1A, passing the largest shrimp breeding area in Vietnam -- consisting of Soc Trang, Bac Lieu and Ca Mau, one will not see bustling markets serving workers after the working hours as a few years ago. This is a signal of insecurity for the fishery sector, although there are a few giants have successfully restructured their debts, restored production and targeted to earn tens of millions of US dollars of export revenue in the next two years.
The signboard of Gia Khang Seafood Company in Can Tho City is added with the signboard of Nam My company because Gia Khang has been producing aquatic products for Nam My for nearly 2 years to maintain operations. Photo: VNE
At Tra Noc Industrial Zone, the An Khang Import and Export Co., Ltd. still opens but it has only 70 workers and their boss Tran Hong Quan. Quan was prosecuted for fraudulent appropriation of assets half a year ago and is now free on bail.
A worker said since Quan's daughter - Deputy Director Nguyen Thi Thu Suong was arrested, An Khang Company has been operating moderately from August 2011 with the debts of over VND370 billion ($16 million). To maintain the workshop and machines, workers process fish cakes for Nam My Co. Ltd. and the word "export" was removed from the signboard of An Khang.
"In the past, we processed about 120 tons of fish a month but the output has been slashed by a half because of the competition form Korean companies, which buy raw materials at higher prices. We are operating in moderation, just earning enough to pay salary to workers," a salesman said.
Similarly, Thien Ma Company also operates in moderation, processing catfish for other businesses to get money to support workers, waiting for the VND700 billion ($35 million) being restructured.
The young boss Le Tung Huy sold his company - Vinh Nguyen Co., Ltd. to other business. Vinh Nguyen's new boss has rebuilt the factory and announced to recruit 100 female workers, paying a salary of VND3-6 million a month, but the company has not fixed the time of operation.
In Ca Mau, one year ago the 35-year-old businessman Pham Tien Dung participated in the Board of Directors of several seafood companies such as Viet Hai, Ngoc Chau and Dai Duong. After leaving Ngoc Chau Seafood Company for a couple operating in the real estate field in Ho Chi Minh City, Dung still owned two seafood companies - Viet Hai Co., Ltd. and Dai Duong Seafood JSC with charter capital of VND120 billion ($$6 million) for each company. However, Viet Hai has been closed for 11 months and many companies have not paid.
For Dai Duong JSC, when Ca Mau authorities implemented the program to help seafood exporters restructure their debt (loans from the Bank for Agriculture and Development), the company resumed operations in early May 2013. The firm currently has about 240 workers with monthly wages of more than VND2 million ($100) a month, consuming 15 tons of shrimp per day, under the management of a member of the Board of Director - Mr. Hua Dinh Van.
A Dai Duong's representative said the company was sunk into debt because of high-interest rate loans and banks tightening credit in 2011. In April 2012 the Military Bank lent Dai Duong to purchase raw materials but the bank recovered the loan in August 2012.
"During the tough period, the former chairman died of disease. The former director empowered others to run the company and ran away. The People's Committee of Ca Mau Province helped us restructure debts and restore production," he added.
Similarly, the first boss of the Minh Chau Seafood Processing Co., Ltd also ran away when his business sank into debt. This man, after giving his company to a new boss, went to HCM City to open a big restaurant, leaving more than VND100 billion ($5 million) of debts.
An employee who has worked for Minh Chau for many years said in the early days when the new boss taking the firm, they paid salary for workers by their own money because the goods were taken by banks for debt recovery. The company has been operating stably for two months and has money to pay wages for over 100 workers. The company is recruiting 60 female employees.
In Soc Trang, after the boss of Phuong Nam Seafood - Lam Ngoc Khuan – went to the US, leaving the debts of VND1.6 trillion ($80 million), from the position of the second largest seafood processing firm in Vietnam, with 3,200 workers, it has dropped to somewhere, with 690 workers.
Being helped by banks to restructure the debts, the company has resumed operation and announced to hire 1,000 workers, aiming to achieve export turnover from $70 to $80 million in 2015.
Binh An Seafood, with the debts of $1.8 trillion ($90 million) a year ago, former general director Tran Van Tri and SHB Bank performed a comprehensive restructuring. Binhanfishco has come back impressively, processing 70 tons of fish a day, employing 2,000 workers.
On June 18, Binh An Seafood organize the shareholder's meeting to elect a new board member – Tran Van Tri, who is an entrepreneur in the rubber industry, after a shareholder with over 20 percent stake resigned. Currently Tri is a member of the Board of Directors of Phuong Nam Company and was appointed as the chief of the asset disposal division to help the company reduce debt.
Mr. Ly Van Thuan, Secretary General of the Association of Seafood Processing Companies of Ca Mau province (Casep), said the province has 30 seafood companies with 34 plants, with a total processing capacity of up to 250,000 tons of shrimp a year. Meanwhile, the total shrimp output in the province is about 140,000 tons a year.
"If all shrimp output in the province is not sold to outsiders, local factories can operate at 60-70 percent of capacity. But in the market economy, shrimp farmers can sell their products to anyone so seafood plants in Ca Mau only work at 40 percent of capacity and they can purchase materials by cash," said Thuan.
According to Mr. Thuan, owing to operating at low capacity and doing business by loans, the production cost is high and seafood companies cannot earn profit. When banks tighten credit, they do not have cash to buy materials and they have to work in moderation.
"Some companies built more factories in loans and fell into debt. This is the cause for the closure of 35 percent of seafood enterprises in Ca Mau, with big debts," Thuan said.
Tung Nam