VietNamNet Bridge - Prime Minister Nguyen Tan Dung has asked the Ministry of Industry and Trade and the State Bank of Vietnam to coordinate with the related agencies to help the Dong Xanh JSC remove difficulties for the Dai Tan ethanol plant in the central province of Quang Nam.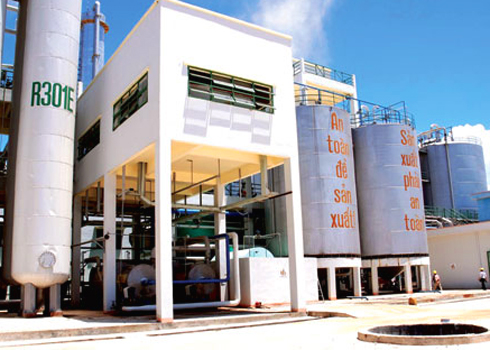 Dai Tan Ethanol Plant is on the brink of bankruptcy.
Earlier, on January 21, the Quang Nam People's Committee worked with representatives of Techcombank and the Dong Xanh JSC to seek solutions to deal with the Dai Tan ethanol plant's debt.
Mr. Luu Quang Thai, Chairman of Dong Xanh JSC said the company has sought a big investor to restructure the ethanol plant. This investor has acquired 70 percent of stakes in the plant.
According to Thai, in the total debt of more than VND100 billion ($5 million), the debt to cassava agents is the most serious because of pressure from the farmers. The plant also owes its workers the salary of four months, totaling over VND4 billion ($200,000).
The company currently has over 1.500m3 of alcohol worth VND20 billion ($1 million). It wants to sell the alcohol to pay debt to farmers and workers. However, Techcombank did not agree with this plan.
In this regard, Mr. Dinh Van Thu, Vice Chairman of Quang Nam province said that the province's policy is giving priority to paying debt to farmers and salary to workers before the lunar New Year, which is coming in two weeks.
"The plant's bad debt and financial difficulties must be removed no later than March of this year," Thu said.
The Dai Tan Ethanol Plant is located in Dai Tan Commune, Dai Loc district of Quang Nam province and it is the largest ethanol plant of Vietnam and one of the three largest ethanol plants in Southeast Asia. It was put into operation in 2008.
The bio fuel plant, owned and operated by domestic producer Dong Xanh, has the capacity to produce 100,000 tons of bio fuel per year, equivalent to 125 million liters of gasoline. The plant used to employ 300 local workers and consumed around one thousand tons of cassava feedstock from 20,000 farmers. In 2010, the plant produced around 12,000 tons of ethanol.
The plant stopped operation in June 2012 due to financial problems. It is a debtor of Techcombank, BIDV and farmers.
Compiled by S. Tung