VietNamNet Bridge - The world's 22nd richest billionaire George Soros and his family have been in Hanoi on Christmas and New Year vacation.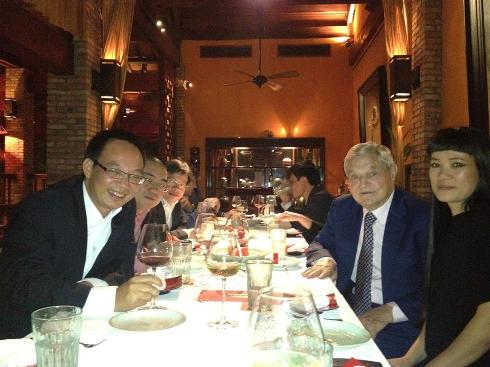 George Soros has dinner with Vietnamese entrepreneurs.
Appearing at a famous restaurant in Hanoi on the evening of December 26, the legendary billionaire casually dressed in a dark suit with a white shirt.
Many people realized George Soros, who is known as one of the wisest investors, and did not miss the opportunity to take photos with him.
As one of the people who took photos with the 82-year-old billionaire that evening, Alpha Books CEO Nguyen Canh Binh wrote onhis facebook: "Tonight I accidentally and fortunately met and talked for two hours with George Soros."
During the meal, the 12th richest American told many stories about famous people in the United States such as President Obama and billionaire Warren Buffett.
The reason of George Soros' visit to Vietnam has not been announced. Le Media Chairman Le Quoc Vinh, also met with the billionaire on December 26, said that the billionaire and his family visited Hanoi on the occasion of Christmas.
"Talking to him is very exciting," said Vinh.
Born on 08/12/1930, George Soros is a Jewish American billionaire and the owner of the Soros Fund Management.
Known as one of the wisest American billionaires, his most famous "affair" is to earn $1 billion from the financial crisis of England in 1992. He is now ranked 22nd on the list of the world's richest man by the Forbes magazine, with total assets of $19 billion as of September 2012.
The Soros Fund Management entered Vietnam from early 2010 to explore opportunities. But since then, no information has been published about Soros' activities in Vietnam.
Compiled by S. Tung
From VNE